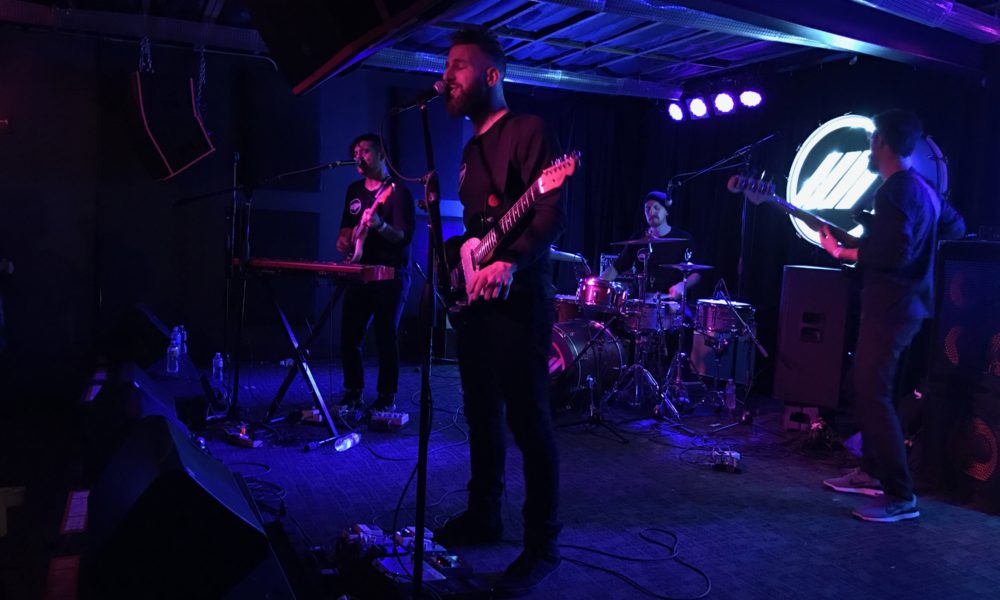 For a full list of what is coming up near you, be sure to visit SilverPlatter.info! Tickets for most of these shows are available in the store – come by and pick some up! Above photo of Rare Futures at The Rebel Lounge.
LINDSAY'S PICKS

January 15th – Hamilton Leithauser at Crescent Ballroom

Hamilton Leithauser is the smooth crooner of The Walkmen. He's been on his own now for at least 2 albums. The last time he played Crescent, he sang his butt off and blew away the small crowd in attendance. Leithauser is darn underrated, any Walkmen fan should be interested in seeing him live.

January 23rd – Dear Nora & Stephen Steinbrink at The Trunk Space
A little heart warmer here at the Trunk Space. Two wonderfully talented kids who left the desert for the North West have grown up and are at it and incredibly talented musicians.  Lets give a warm welcome home!
January 28th – The Phoenix Rock Lottery at Crescent Ballroom
By now, hopefully everyone's attended one of these. They're a whole lot of fun for everyone involved and in attendance. This is a great way to dive into the talent of the local music pool, and watch it in action in its most vulnerable and creative state!
DARIO'S PICKS

January 14th – Downtown Chamber Series at MonOrchid
This group only plays, maybe, 4 times a year and it is always amazing. DCS is made up of top notch musicians, many of whom play with the Phoenix Symphony. They find interesting, intimate spaces to perform some of the most intriguing music ever composed. This is a must see for any big city dweller.
January 17th – Ladysmith Black Mambazo at MIM
This South African vocal group has been performing for over 50 years. They found worldwide fame with their collaboration on Paul Simon's "Graceland," but have gone on to perform with a number of popular artists, as well as recording their own albums and touring the world. Like a lot of music coming out of Africa, their sound is transcendent, full of life and 100% Real.
January 23rd – Dear Nora & Stephen Steinbrink at The Trunk Space
It was support for touring acts like Dear Nora that drew me to Trunk Space in the first place. But, it was the local acts like Stephen Steinbrink that kept me coming back for more. I will use the cliche of "full circle" because Dear Nora is coming back to the trunk space with Stephen Steinbrink as part of the band and I just think that's delightful.
JEFF'S PICKS
January 21st – Marching Church at The Rebel Lounge
The Marching Church album released several months ago on Sacred Bones took a while to grow on me but has been in constant rotation at home for a bit now. Elias Rønnenfelt (also the front man for Iceage) delivers a dramatic, heartfelt collection of tunes that grab the listener's attention and don't let go for the duration of the album. Very excited to see them live later this month!
January 22nd – GUILD at The Rebel Lounge
This rad collective of up-and-coming producers has been putting on killer shows around town – huge beats decorated with stellar visuals. Recommended for fans of progressive electronic artists like Flying Lotus, Gaslamp Killer and Samiyam.
January 28th – The Phoenix Rock Lottery at Crescent Ballroom
Last year I had a ton of fun participating in this extremely unique event. If you haven't attended a Rock Lottery thus far, you must go this year! A cast of 25 musicians from tons of great Valley bands come together at 9am on January 28th to randomly form five new bands that write three songs, learn a cover, and perform them all that night at Crescent Ballroom. It's a lot of fun to watch talented locals come together to form new works of art (most of which can only be heard the night of the show).