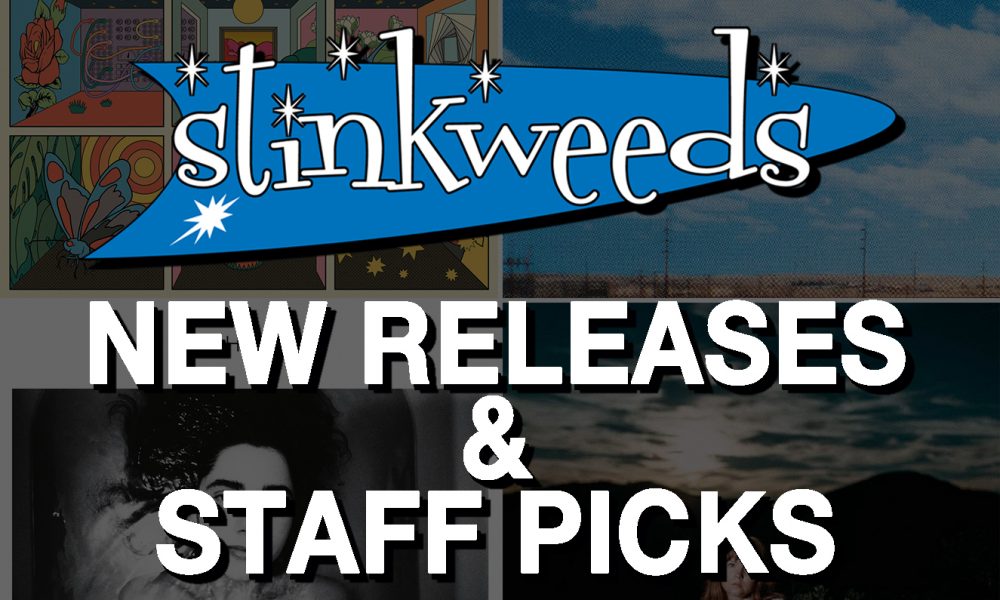 Staff Picks
Kimber- Courtney Marie Andrews
Lindsay-PJ Harvey Reissues, Courtney Marie Andrew, Spoon Reissues
Dario- Jim White & Marisa Anderson
Eric- X, Courtney Marie Andrews
Spoon – Soft Effects LP"+MP3 (Matador)
Out of print for nearly five years, Soft Effects has been remastered and reissued on vinyl. Soft Effects (1997) features five of Spoon's strongest songs and marks a leap forward in the band's repertoire, signaling the great things to come on subsequent Spoon albums. The vinyl repress features blue sky cover never before used in physical packaging.
Spoon – Telephono CD/LP (Matador)
Spoon's debut LP Telephono is back in print for the first time since its initial release nearly 25 years ago. Newly recut from the original mas-ters, the 14 tracks are available as a single LP or as a CD that includes the five song 1997 EP Soft Effects.
Courtney Marie Andrews – Old Flowers CD/LP (Fat Possum)
Created in the aftermath of a long-term relationship, Old Flowers features the acclaimed singer, songwriter and musician's most vulnerable writing across 10 new songs that chronicle her journey through heartbreak, loneliness and finding herself again after it all. Produced by Andrew Sarlo (Bon Iver, Big Thief), Old Flowers features only three musicians: Andrews (vocals, acoustic guitar, piano), Twain's Matthew Davidson (bass, celeste, mellotron, pedal steel, piano, pump organ, wurlitzer, background vocals) and Big Thief's James Krivchenia (drums, percussion).
Jerry Garcia/John Kahn
–
GarciaLive Volume 14: January 27th, 1986
The Ritz
CD (ATO)
GarciaLive Volume 14 showcases a buoyant acoustic performance from Jerry Garcia and longtime friend/bassist John Kahn during the middle of a rare duo tour. Recorded on January 27, 1986 at The Ritz in New York City, Garcia and Kahn deliver two exquisite sets featuring Grateful Dead favorites ("Ripple", "Friend Of The Devil", "Dire Wolf", and "Bird Song", among others), spirited takes on Bob Dylan's "When I Paint My Masterpiece" and "Simple Twist of Fate", and more from Garcia's songbook. [Vinyl edition due August 14.]
PJ Harvey – Dry – Demos CD/LP (Island)
PJ Harvey – Dry [Reissue/1992] LP (Island)
Archive collection containing demos of PJ Harvey's seminal 1992 debut album. Dry features the singles "Dress" and "Sheela-Na-Gig" which heralded Harvey's burst onto the global stage. The Los Angeles Times' Robert Hilburn described the record as "… a seductive calling card that signals the arrival of an extraordinary new artist." NME wrote, "Polly dredges these sounds from the pit of her dissected soul and drags them out of her mouth with clenched fists," while Pitchfork said, "On her debut, Polly Jean Harvey matched Patti Smith's incandescence with Bessie Smith's lasciviousness, outplayed everyone on the British indie circuit, and became an instant star." [Dry has also been reissued this week on 180gm vinyl.]
Howling – Colure CD/LP+MP3 (Counter)
RY X, solo alternative artist and member of The Acid and Frank, bring fans a bigger, sharper follow-up to their debut, Sacred Ground. On Colure, the Berlin-based Wiedemann and Los Angeles-based RY X conjure transcendent creations out of their contrasting musical backgrounds and environments. The album is assuredly dualistic: electronic and acoustic sounds sit comfortably side-by-side, and big melodic hooks are laced into hypnotic club productions.
STRFKR –
Future Past Life
CD/LP+MP
3
(Polyvinyl)

STRFKR has always been a constantly evolving entity, growing over the years from rambunctious beginnings into the manicured electro-pop perfection they exhibited on their last studio album, 2016's pristine Being No One, Going Nowhere. Future Past Life breaks new ground, dialing back some of the high-gloss production they're known for to craft songs that are stripped down, spaced out and somehow as visceral as they are dream-like. The immaculate but danceable pop that has long been STRFKR's calling card is pushed into exciting new places on Future Past Life. It's a strange and beautiful sonic environment, one that finds STRFKR growing as they embrace the chance and spontaneity that brought these songs about in the first place. [Limited opaque orange colored vinyl pressing also available.]
X – Alphabetland CD (Fat Possum)
Alphabetland is the eighth studio album by legendary American punk rock band X. It is their first studio release in 27 years and the first with their original line-up in the past 35 years. [Vinyl edition due August 21.]
Devendra Banhart – Vast Ovoid 12" (Nonesuch)
This four-song limited edition vinyl EP features three songs recorded during the sessions for his album Ma as well as the Helado Negro remix of the track "Love Song".
Mansions – Big Bad LP (Run For Cover)
Mansions fourth LP, Big Bad, refers to the conscious and unconscious ways we react to our own mortality and self-sabotage the good things in life. While fans of Mansions previous releases – 2011's Dig Up the Dead, 2013's Doom Loop, and 2017's Deserter – will appreciate Big Bad's strikingly personal lyrics and lush atmosphere, Big Bad is more indicative of a specific place in time and the visceral feelings that go along with it than it is a direct follow-up to any of the band's previous work. Limited edition colored vinyl pressing.
Rose City Band – Summerlong CD/LP (Thrill Jockey)
It is impossible to talk about modern psychedelic music without mentioning Ripley Johnson. As bandleader of Wooden Shjips and half of Moon Duo, Johnson has continually charted new cosmic paths that expand on the language of the genre. With Rose City Band, Johnson's songwriting and beautiful guitar lines take center stage. While his vocal treatment would be recognizable to any Wooden Shjips fan, the sparseness of the instrumentation lays bare the beauty of his writing. Shimmering guitar lines are free to shine, buoyed by driving rhythms. New to the mix are arrangements and instruments drawn directly from classic country, resulting in songs with more than a hint of twang. Buoyant and joyous, Summerlong is a captivating listen that leaves the listener yearning for more. The record is an ode to freedom, born of a musician stepping out of all routines and whose own liberation is communicated so completely in his music. Summerlong is a record that, taken in its entirety, is an emphatic statement on the songwriting power of Ripley Johnson. Johnson's joy in every aspect of this album is delightfully infectious.
Jim White & Marisa Anderson – The Quickening CD/LP (Thrill Jockey)
The Quickening is an improvised work guided by emotional intuition and an ability to spin collective experience into music of potent and boundless beauty. Jim White and Marisa Anderson instrumental voices' are unmistakable and spellbindingly lyrical. Anderson unravels global guitar traditions into atmospheres all their own through improvisations and transforming melodic lines. While White implements an array of sticks, brushes, and techniques that imbue each rhythmic percussion passage with its own distinct personality. Together their melodic flourishes cascade and twist upon one another, at times trading conversational exchanges, and at others drifting in unison as if lost in the same train of thought.
The Soft Pink Truth – Shall We Go On Sinning So That Grace May Increase CD/LP (Thrill Jockey)
The Soft Pink Truth is Drew Daniel, who also forms one half of acclaimed electronic duo Matmos. Started as an outlet to explore visceral and sublime sounds that fall outside of Matmos' purview, it draws on knowledge of rave, black metal, and crust punk obscurities to subvert and critique genre expectations. On this record Daniel takes a bold and surprising new direction, moving beyond simple plunderphonic sampling and opening up a genuine dialogue with other musicians, Daniel left room in his compositions for moments of genuine surprise, capturing the freeform, communal energy of a DJ set or live improvisation session more than a recording project. It feels ethereal but full, both ambiently hypnotic, and deliciously danceable.
COMING NEXT WEEK…!
MADELINE KENNY – Suckers Lunch CD/LP
PAUL MCCARTNEY – Flaming Pie CD/LP
LAND OF TALK – Indistinct Conversations CD/LP
NOFX + FRANK TURNER – West Coast vs Wessex CD/LP
CHARLEY CROCKETT – Welcome To Hard Times CD/LP
LOU BARLOW – Emoh LP
DASHBOARD CONFESSIONAL – Places You Have Come To Fear The Most LP
OHME – Fantasize Your Ghost CD/LP
MIKE POLIZZE – Long Lost Solace Find CD/LP
WYE OAK – No Horizon 12″
WILLIAM TYLER – Music From First Cow LP
DIRTY PROJECTORS – Flight Tower LP
SHIRLEY COLLINS – Heart's Ease CD/LP