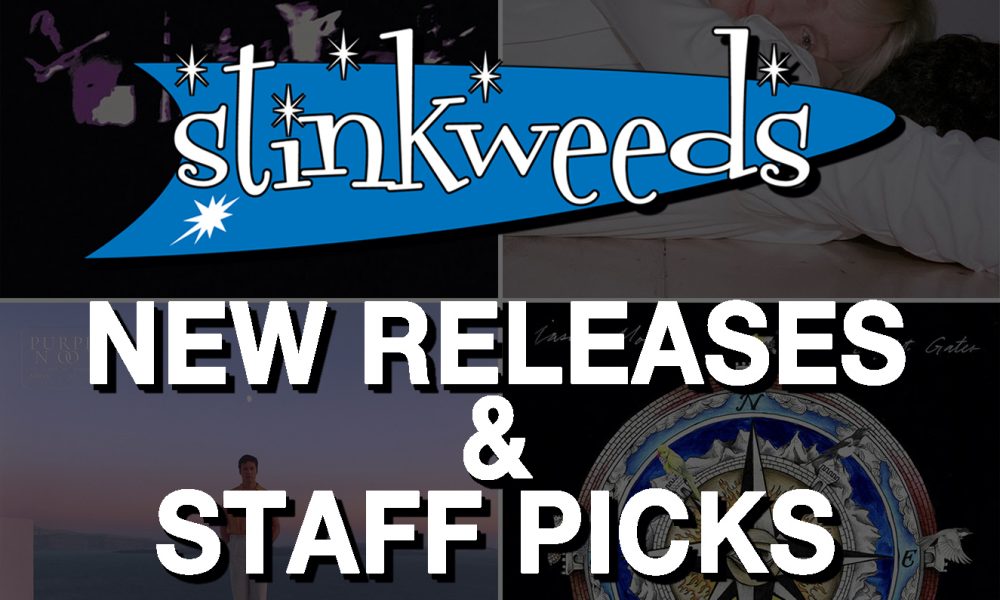 Staff Picks
Kimber- Washed Out
Lindsay- Jason Molina, Laura Marling, X
Dario- Jason Molina, Laura marling 
Eric- The Stooges, X
Laura Marling – Songs For Our Daughter CD/LP (Chrysalis/Partisan)
Laura Marling's exquisite seventh album Song For Our Daughter arrives almost without pre-amble or warning amidst uncharted global chaos, and yet instantly and tenderly offers a sense of purpose, clarity and calm. As a balm for the soul, this full-blooded new collection could be posited as Laura's richest to date, but in truth it is another incredibly fine record by a British artist who rarely strays from delivering incredibly fine records. Taking much of the production reins herself, alongside long-time collaborators Ethan Johns and Dom Monks, Laura has layered up lush string arrangements and a broad sense of scale to these songs without losing any of the intimacy or reverence we've come to anticipate and almost take for granted from her throughout the past decade. [Limited indie store exclusive vinyl pressing available.]
The Stooges – Live At Goose Lake: August 8th, 1970 CD/2xLP (Third Man)
The apocryphal tale of the Stooges performance at the Goose Lake festival on August 8th, 1970 has been told countless times over the past five decades. Bassist Dave Alexander, due to nerves or overindulgence or whatever you choose to fill in the blank, absolutely spaces in front of 200,000 attendees. He does not play a single note on stage. He is summarily fired by Iggy Pop immediately following the gig. Here starts the beginning of the end of the Stooges. Found buried in the basement of a Michigan farmhouse amongst other tasty analog artifacts of the same era, the 1/4″ stereo two-track tape of the Stooges complete performance at Goose Lake is the Rosetta Stone for fans of this seminal band. Not only is this the last ever performance of the original godhead Stooges line-up, but it is the only known soundboard recording of said line-up. Playing the entirety of their canonical 1970 masterpiece Fun House, the sound, the performance, everything about this record is revelatory. [Limited indie store exclusive colored vinyl pressing available.]
Legendary LA punk band, X returns with their first new album consisting of all original members in 35 years!! ALPHABETLAND is here and it's a banger! Comes with a 24×24 poster. Limited quantities of blue vinyl available.
Bronson – Bronson CD/LP+MP3 (Ninja Tune)
Grammy-nominated duo Odesza and acclaimed Australian producer Golden Features have come together to form the powerhouse group Bronson. The self-titled album Bronson pushes the soundscapes of their previous projects to explore the darker edges of dance music. [Limited black and yellow swirl colored, and clear vinyl pressings are also available.]
Glass Animals – Dreamland CD/LP (Republic)
Dreamland is the hotly anticipated follow-up to Glass Animals' highly acclaimed 2016 album How To Be a Human Being. Album track "Tokyo Drifting" features a collaboration with rapper Denzel Curry. Dreamland marks the first album from the Oxford quartet since drummer Joe Seaward was severely injured in 2018 after being hit by a truck while riding his bike in Dublin. The incident forced Glass Animals to cancel a series of support slots with Beck and dates at the Pohoda, Open'er and Mad Cool festival.
Jenny O. – New Truth CD/LP (Mama Bird)

Third album from the L.A. singer/songwriter.
Washed Out – Purple Noon CD/LP+MP3 (Sub Pop)
Washed Out is Atlanta-based producer/songwriter/multi-
instrumentalist Ernest Greene. Over the course of three uniquely enchanting, critically lauded albums and an EP, the music he makes has proved both transportive and visual, each new effort inviting listeners into immersive, self-contained universes. Each Washed Out release has been rooted in a form of escapism, but coupled with a new layer of emotional intensity,
Purple Noon
takes the project's music to dazzling new heights. The coastlines of the Mediterranean inspire Purple Noon, and Greene pays tribute to the region's distinct island culture – with all of its rugged elegance and old-world charm – and uses it as a backdrop to tell the album's stories of passion, love, and loss (its title comes from the 1960 film directed by Rene Clement, which is based on the novel The Talented Mister Ripley by Patricia Highsmith).
Pixies – Bossanova [Reissue/1990] LP (4AD)
Limited red colored vinyl 30th Anniversary Edition reissue of the Pixies third album. Having so successfully helmed their platinum-selling second album Doolittle, the band continued to work with Gil Norton, this time choosing to record in Los Angeles over their native Boston. It was a particularly fertile time for the band with Kim Deal also starting to have success with The Breeders, who released their debut album Pod just a few months prior.
Video Age – Pleasure Line LP (Winspear)
Video Age's third album pairs neon-bright '80s pop melodies with a vast range of influences (including Janet Jackson, David Bowie, and Paul McCartney) to create an optimistic sound all their own. Their catchy, memorable songs radiate a big "glass half-full" energy. [Limited purple colored vinyl pressing also available.]
Grateful Dead – Aoxomoxoa [Reissue/1969] LP (Grateful Dead)
In 1969, for their third album, The Grateful Dead eschewed outside producers and created Aoxomoxoa themselves, beginning a run of self-produced albums that would continue until 1977. Scrapping the first sessions, which were recorded to eight-track tape, the Dead now had 16 tracks with which to experiment their psychedelic sound, with an album that included entirely Robert Hunter-penned lyrics for the first time.
Coming Next Week:
KATHLEEN EDWARDS – Total Freedom CD/LP
MAC MILLER – K.I.D.S. LP
WHITNEY – Candid CD/LP
MAX RICHTER – Voids LP
ERIC HILTON (Thievery Corporation) – Infinite Everywhere CD/LP
BILL FRISELL – Valentine CD/LP
KING BUZZO – Gift of Sacrifice CD/LP
PRIMITIVE MAN – Immersion LP
SPOON – Girls Can Tell CD/LP reissue
KNIFE – Shaking the Habitual: Live CD+DVD
TANYA DONELLY + PARKINGTON SISTERS CD/LP
BLACK MARBLE – I Must Be Living Twice CD/LP
C418 – Minecraft Volume Beta CD/LP
GOLDFRAPP – Supernature LP
RAMONES – It's Alive LP
EINSTURZENDE NEUBAUTEN – Alles in Allem CD/LP