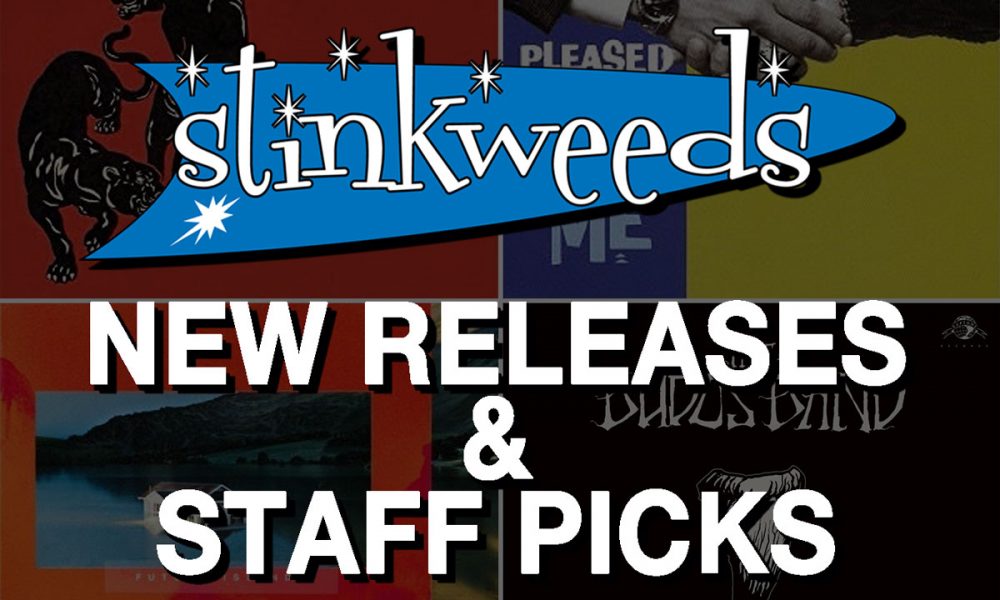 Staff Picks
Kimber – Budos Band, The Doves
Lindsay  – Budos Band, Metz, The Doves
Dario – Metz
Eric – Metz, Budos Band
The Budos Band – Long In The Tooth CD/LP+MP3 (Daptone Records)
15 years after the release of their debut album, Daptone's Royal Court from Staten Island deliver a truly epic collection of new material that finds the group further bridging the gap between the Farfisa-fueled Ethio-funk stylings of their early recordings, with the psychedelic, Sabbath-inspired hellfire of late. The title track and lead single, "Long In The Tooth", jumps out of the speakers with a heavy drum break (reminiscent of the B-Boy approved grooves of their early output), drenched in a pulsating, hallucinatory wall of organ, menacing horns, and a rugged guitar riff that pummels the listener into Budonian submission. Imagine Link Wray and Mulatu Astatke collaborating on an Italian horror soundtrack and you're getting close.
Future Islands – As Long As You Are CD/LP (4AD)
With As Long As You Are, Future Islands has created an album that looks back as well as forwards, that confronts old ghosts and new hope. It's also one that "pushes the edges of what we do" according to bassist/guitarist William Cashion; ballads are a beat slower and more dramatic, the upbeat tracks have a little more spark and urgency. And, above all, it's a record full of searing honesty, redemption, and what singer Sam Herring refers to as "letting go." "As an artist, you always have fears that you're just gonna get old and then people won't care," says Herring, "but this is what we're supposed to sound like and, to us, it's the best we've ever sounded. As Long As You Are is another step in defining who and what Future Islands is, and that's really important." [Limited edition blue colored vinyl pressing also available.]
METZ – Atlas Vending CD/LP+MP3 (Sub Pop)
"Change is inevitable if you're lucky," says guitarist/vocalist Alex Edkins while talking about Atlas Vending, the fourth full-length album by Toronto's METZ. "Our goal is to remain in flux, to grow in a natural and gradual way. We've always been wary to not overthink or intellectualize the music we love but also not satisfied until we've accomplished something that pushes us forward." The music made by Edkins and his compatriots Hayden Menzies (drums) and Chris Slorach (bass) has always been a little difficult to pin down. Their earliest recordings contained nods to the teeming energy of early-'90s DIY hardcore, the aggravated angularities of This Heat, and the noisy riffing of AmRep's quintessential guitar manglers, but there was never a moment where METZ sounded like they were paying tribute to the heroes of their youth. If anything, the sonic trajectory of their albums captured the journey of a band shedding influences and digging deeper into their fundamental core—steady propulsive drums, chest-thumping bass lines, bloody-fingered guitar riffs, the howling angst of our fading innocence. With Atlas Vending, METZ not only continues to push their music into new territories of dynamics, crooked melodies, and sweat-drenched rhythms, they explore the theme of growing up and maturing within a format typically suspended in youth.
Anteloper –
Tour Beats Vol. 1
LP (International Anthem)
Anteloper is the duo of Jaimie Branch (Fly Or Die) and Jason Nazary (Bear In Heaven, Helado Negro). Of Anteloper, Rolling Stone says, "fractured beats and pealing, effects-heavy brass suggests a punk-minded update of Miles Davis' most thrillingly weird '70s explorations."
The Doves – The Universal Want (Imperial) LP
Vinyl LP pressing. 2020 release. Doves break their silence on new music rumors by announcing fifth album, The Universal Want. Buoyed by refreshed chemistry, restless studio creativity and public reaction to their return, Doves set free the album's first single, 'Prisoners'. Turning the page onto the next chapter of a three-decade career, The Universal Want follows Mercury-nominated albums, Lost Souls, and The Last Broadcast.
Julien Baker – Turn Out The Lights [Reissue/2017] LP+MP3 (Matador)
Repressed on cloud-in-clear vinyl. Included on Best of 2017 lists from The New York Times, Pitchfork, NPR, Stereogum, Billboard and many more, Julien Baker's sophomore LP Turn Out The Lights proves "A powerful new voice has arrived in music" (The Ringer).
Buffalo Tom –
Bird Brain
[Reissue/1990] LP (Beggars Banquet)
Out of print for years, Beggars Arkive is excited to present a 30-year anniversary colored vinyl reissue of Buffalo Tom's epic second album. Initially offering a raw, propulsive sound that emphasized Janovitz's imposing guitar squall on such early releases as 1989's Buffalo Tom and
1990's Bird Brain, Buffalo Tom's early approach gave way to a more melodic, yet no less distinctive, style on 1992's Let Me Come Over (including the hit ballad "Taillights Fade"), 1993's Big Red Letter Day (including the hit "Soda Jerk") and 1995's Sleepy Eyed. Their friendship with J Mascis helped the band's career take off by assisting with the production on the band's first two albums.
Black Pumas – Black Pumas 2xCD/2xLP+7" (ATO)
Black Pumas unveil a deluxe edition of their Grammy-nominated self-titled debut album. This expanded set is available as a double CD and double LP + 7" and includes the original album plus 11 bonus tracks, including three new original songs, four cover tracks, and unreleased live material. The package is updated with new artwork and contains unpublished in-studio and live photographs.
Released in 1987 by Sire Records, The Replacements' fifth full-length, Pleased To Meet Me is the only album recorded by the band as a trio, after original guitarist Bob Stinson acrimoniously left the band. Following 2019's widely acclaimed Dead Man's Pop release, Pleased To Meet Me receives a similar 'deep dive' treatment with a vinyl LP + three CD deluxe boxed set, which tells the story of the album in ways not previously possible with more than 50% of the content previously unreleased.
Mary Lattimore – Silver Ladders CD/LP+MP3 (Ghostly Int'l)
Los Angeles-based harpist Mary Lattimore returns with
Silver Ladders
, the full-length Neil Halstead- (Slowdive) produced follow-up to acclaimed album Hundreds Of Days. [Limited 'silver star' colored vinyl pressing also available.]
Sean Nicholas Savage – Life Is Crazy CD/LP (Arbutus)
"Life Is Crazy", the accurately titled new record from Sean Nicholas Savage, is unlike anything we've heard from the cult balladeer. No drums or bass on the album, the accompaniment consists strictly of pure piano and lush strings. The piano is interpreted and performed by renowned virtuoso Marcin Masecki, winner of the 2005 International Jazz Piano Competition in Moscow, while the strings are arranged and performed by adored Grammy-winning composer Owen Pallett.
Touché Amoré – Lament CD/LP+MP3 (Epitaph)
Since their formation in 2007, Los Angeles post hardcore band Touché Amoré has been burrowing through angst, alienation, cancer, and death throughout four adored studio albums. After over a decade of working through darkness, fifth offering, Lament, finds the light at the end of the tunnel. The album arrives as the follow-up to the band's critically acclaimed 2016 release, Stage Four, which found vocalist Jeremy Bolm mourning and paying tribute to his late mother. Lament shines a light on what life for the band has been like since then, tackling themes of fragility, empathy, politics, and love while pushing forward a newfound sense of hope. [A limited edition indie store exclusive aqua blue vinyl pressing is also available.]
Travis – 10 Songs CD/LP (BMG)
At various points along the trajectory between then and now, Travis has sold millions of albums (just under three million of The Man Who in the UK alone); they've been the subject of an award-winning feature length documentary (Almost Fashionable) and frontman Fran Healy has elicited acclaim from Paul McCartney, Elton John and Graham Nash – all songwriters whose ability to divine a timeless melody out of thin air has sustained them through the decades. 10 Songs is an album that holds you in its own emotional microclimate at the outset and keeps you there. It's also a grown-up record. 10 Songs is a record about the way life comes at love and what love does to weather those challenges. "This is no rehearsal/This is the take," sings Fran at the beginning of "Waving At The Window", over an insistent piano hook, "Promises you once kept/Are going to break." Every track on this album carries an even load. No passengers here. Nowhere to hide. [Deluxe double-CD and double colored vinyl editions – both expanded with album demos – are also available.]
Cut Worms – Nobody Lives Here Anymore CD/2xLP (Jagjaguwar)
Nobody Lives Here Anymore is the haunted reverie of an American landscape in-and-out of Max Clarke's mind. Recorded between May and November 2019 in Memphis, Tennessee, the album is a snow globe of the mid-twentieth-century's popular music filled with jangling guitars, honkey tonk pianos, and Telstar organs. [Limited Coke bottle clear vinyl pressing also available.]
Groove Armada –
Edge Of The Horizon
CD (BMG)
It's been ten years since Groove Armada released their landmark album Black Light. They've been active in recent years – DJ sets, select live shows and the Twenty One Years compilation – yet the prospect of a new album seemed unlikely. That all changed when they stepped out at the Boomtown Festival and saw the reaction from long-term fans and newcomers alike. "We walked on stage to a young crowd, there were 40,000 people there," notes Cato. "We had the most amazing Hollywood Bowl type view from the stage and it just felt so fresh and relevant." Their creative reconnection resulted in new album, Edge Of The Horizon. [Vinyl edition due November 20.]
Groovie Goolies – Groovie Goolies [Reissue/1970] LP (Real Gone Music)
Released last week on vinyl – now available on CD. When Filmation Studios landed a late-'60s hit with the Saturday morning cartoon TV show The Archies, it wasn't long before it started looking for more "sugar" with a similarly music-themed follow-up. Inspired by the success of such shows as The Munsters and The Addams Family, penned by a couple of writers for Laugh-In, and featuring the voice of F-Troop's Larry Storch, Groovie Goolies first aired in September 1970 as a pairing with the Archies spin-off Sabrina, The Teenage Witch. Groovie Goolies brought A-list talent to the task of composing and performing two songs for every episode. The whole record has a very Archies vibe with some very groovy touches. [Limited green colored vinyl pressing also available.]
Gunn-Truscinski Duo – Soundkeeper CD/2xLP+MP3 (Three Lobed)
This music does not come out of nowhere. It comes from a guitar amplifier and a drum kit, and you are standing directly in front of them. And it's beautiful, all dozen tracks of the Gunn-Truscinski Duo's Soundkeeper: beautiful loud exchanges between Steve Gunn's shimmer-blast guitar and John Truscinski's outside-in drums, beautiful quiet exchanges that hum, beautiful melodies that evoke long-lost screen worlds and old film stock, beautiful phrases that telescope into saturating pinwheels.
Machinedrum – A View Of U CD/LP (Ninja Tune)
A View Of U is L.A.-based producer Machinedrum's (aka Travis Stewart) ninth solo album in a glittering career that has cemented his reputation as "one of electronic music's biggest and brightest stars" (DJ Mag). It features an incredible cast of collaborators including Sub Focus, Chrome Sparks, Father (Awful Records), Freddie Gibbs, Mono/Poly (Brainfeeder), Tigran Hamasyan, Jesse Boykins III, Rochelle Jordan and Tanerélle. A truly career defining record for the North Carolina born producer, A View Of U distills his signature fusion of IDM, UK rave, jungle and bass culture blended with myriad US regional hip-hop and club music styles. [Limited silver, white, and black marbled vinyl pressing also available.]
Mrs. Piss – Self-Surgery CD/LP+MP3 (Sargent House)

Mrs. Piss is a new collaboration between Chelsea Wolfe and Jess Gowrie. Drawing on their collective rock, metal, and industrial influences, the project began while the two were touring around together during Wolfe's Hiss Spun album in 2017. The result is their debut album
Self-Surgery
, which was recorded at The Dock Studio in Sacramento, CA and in Wolfe's home studio, The Canyon. These songs feel more urgent and visceral than anything either of them has created before: heaviness spurred on by punk spirit.
Slow Pulp – Moveys CD/LP (Winspear) 
Slow Pulp's remarkable full-length debut Moveys is a testament to hard-fought personal growth. In the process of making their new record, the Chicago-based indie rock band powered through health challenges, personal upheaval, and a pandemic, all while breaking old habits and learning how to be better songwriters and friends. Full of blistering energy and emotional catharsis, this compelling 10-track collection highlights the band's resourcefulness and resilience to come together even when they were states away. Slow Pulp's tough adaptability is something that has formed over time thanks to the unbreakable bond of lifelong friendship. Their roots can be traced back to elementary school, with Alexander Leeds (bass), Theodore Mathews (drums), and Henry Stoehr (guitar) performing in bands together since the sixth grade while growing up in Madison, Wisconsin. Emily Massey (vocals/guitar) was later invited to join their new project, Slow Pulp, in 2017. "I can't describe a level of closeness with other people like we have. Having lived together, toured together, worked together, and written together, we learned so much about each other so quickly," says Massey. [Limited neon green colored vinyl pressing also available.]
North Americans – Roped In LP (Third Man)
Los Angeles-based musician collective with a rotating cast featuring Mary Lattimore and William Tyler, playing instrumental, psychedelic folk music. Pedal steel and nylon string guitar intertwine to create ethereal crystalline drones and twinkling hypnotic moods in the American Primitive style.
Foals – Collected Reworks 3×12" (WB)
Foals present Collected Reworks, a compilation of the most essential remixes from throughout their career. The collection features Hot Since 82's brand new remix of "Into The Surf" and highlights an eclectic range of artists, including the 10-minute take on "The Runner" from the Grammy-nominated Rüfüs Du Sol, Solumun's huge version of "Late Night", Hot Chip's inventive interpretation of "My Number", and the recent Purple Disco Machine remix of "In Degrees". Highlights from the three volumes are compiled here in the colored triple-vinyl Collected Reworks set.
Tricky – Fall To Pieces LP (!K7)
Recently released on CD – now available on vinyl. "Tricky has always worn his bruised heart on his sleeve. His brilliantly desolate debut album, Maxinquaye, was inspired by his mother, who died when he was four years old, and a song like 'Strugglin'' laid bare in excruciating detail his experiences of pain, darkness, and toil. Fall To Pieces, which contains some of the most darkly moving music that Tricky has produced since that debut album, was produced in the shadow of tragedy. Tricky's daughter Mazy died in 2019 as he was beginning work on a new record. Here, on his 14th studio album, he translates that unimaginable loss into moments of nauseatingly raw emotion. However personal the burden of Tricky's grief, his collaborators have played a significant role in shaping the sound and feel of the album. Marta Złakowska, who Tricky discovered in a Krakow bar after a singer dropped out of his Polish tour, has the perfect voice for a Tricky vocal foil, her spectral tones the wisp of smoke to his cigarette-end mutter, while Marie-Claire Schlameus's cello and Kristof Hahn's slide guitar creep around the arrangements with the finesse of art thieves." – Pitchfork
Weyes Blood – Cardamom Times LP+MP3 (Mexican Summer)

On vinyl for the first time since its first sold-out pressing in 2015, this fifth anniversary edition of Weyes Blood's (Natalie Mering) warm and elegiac record,
Cardamom Times
, features re-imagined cover art with the focal image of a desolate paradise during sunset – Jamaica Bay in Queens, NY surrounded by rust. A couple is laying on the ground, caught in a comfort beyond time.
Bahamas – Sad Hunk CD (Republic)
The fifth album from Bahamas, Sad Hunk takes its title from a nickname bestowed upon the artist by his wife in reaction to how he was being portrayed in the media, "Something like ten years ago I did a photo shoot, and in all the pictures they sent back I was lit half in shadow, looking all brooding and mysterious," says the award-winning singer/songwriter otherwise known as Afie Jurvanen. "When my wife saw the photos the first thing she said was, 'Whoa—sad hunk,' and after that it became sort of a joke among our friends." It's a fitting backstory for an album that embodies an undaunted self-awareness, each track graced with Bahamas's wry wit and unabashed heart. In sketching Sad Hunk's delicately composed batch of songs, Jurvanen drew much inspiration from his home life and all the joy and struggle that comes with building a family together. [Vinyl edition due October 23.]
Coming Next Week!
MATT BERNINGER (The National) – Serpentine Prison CD/LP
THURSTON MOORE – By The Fire CD/LP
TOBIN SPROUT – Empty Horses CD/LP
KEVIN MORBY – Sundowner CD/LP
AUTECHRE – Sign CD/LP
BEABADOOBEE – Fake At Flower CD/LP
ROBERT WYATT – His Greatest Misses CD/LP
STEEP CANYON RANGERS – Arm In Arm CD/LP
GOLDMUND – Time It Takes CD/LP

WILLIAM ELLIOTT WHITMORE – I'm With You CD/LP

TOM PETTY – Wildflowers + All The Rest CD/LP