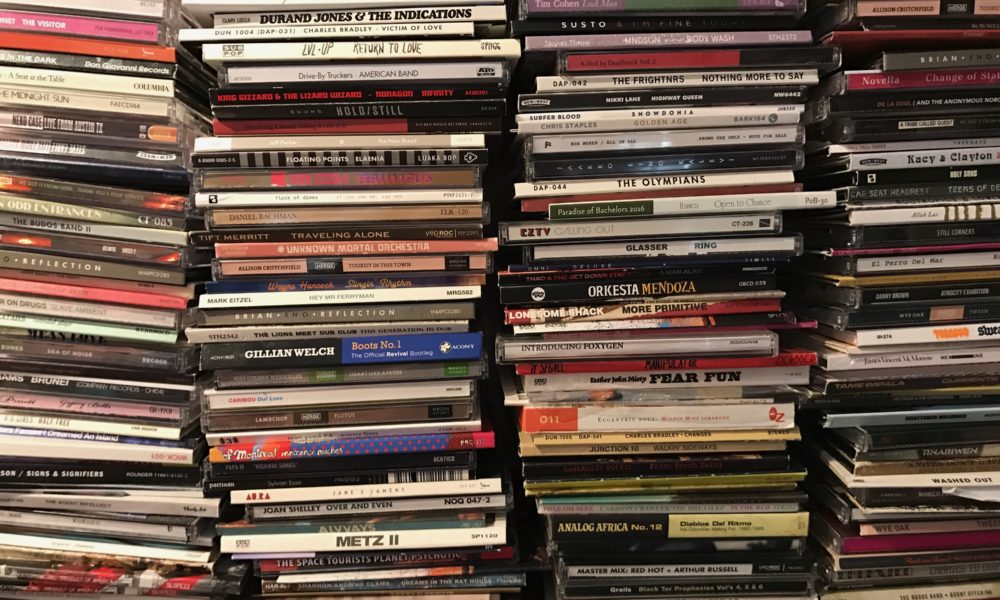 Moses Sumney – Aromanticism [Jagjaguwar]
We are entering an era of music that will be defined by it's inclusiveness. Genres are being bent and intermingled to the point of being unrecognizable. I'll admit to letting the more purist side of my taste get the best of me, often putting my foot down, stating "just commit to something!" I think my frustration comes from the often lazy way this genre mixing happens. It usually stops at "this style feat. this other style." I think the missed opportunity is in the potential for new music. We are hearing this, more and more. But, often these ideas can still be locked down to one specific style or genre. This is not the case with Moses Sumney's Aromanticism. Sumney's vocals are very clearly coming from an R&B background, resembling Al Green or even D'angelo. But, the music is nearly impossible to lock down. There's Radiohead-like Dramaticism, nods to Steely Dan or George Benson, simple acoustic indie folk and vocal layering reminiscent of Meredeth Monk compositions. All of this makes for a compelling listen that may not be fully appreciated on first listen. This is one of only a few albums I have experienced with this sort of approach. I'm reminded of last year's Kahdja Bonet album, and even a little bit of Solange. My hope is we're going to start seeing a lot more of this. This is an album that doesn't fit into any parameter of what I typically listen to. But, it doesn't really fit into any parameter, for that mater. This makes it all the more worth of my attention.
Rolling Blackouts C.F. – Talk Tight [Sub Pop]
This is like a text book of underappreciated bands from 1975 to 1995. There's all the apathetic charm of mid 70s bands, influenced by the Velvet Undergroun, like Modern Lovers, Television or Talking Heads, along with the lazy charm of the 80s and 90s, like the Feelies or Yo La Tengo. But, every song has a playful way of never giving too much of anything. There's a movement in the songs that prevents any such comparisons to sink in too deep. This allows for the important stuff to come through, like catchy melodies, hooky riffs and charismatic vocals. You can't fake that stuff.
ALA.NI – You & I [Missing Piece]
There's a stupid joke designed for a very specific kind of music snob (Fair warning, this will not be funny). We are visited by an alien species, from another planet. They tell us the meaning of their visit is to inform the human race that it has royally screwed up as an intelligent species and that they intend to give us a gift that corrects all of our mistakes. As they fly away, they leave us recordings of all the greatest songs we have ever recorded, only they have been stripped of all the production and overused string sections. That's the joke. (I told you this wasn't going to be funny). But, the few of you music snob that are cackling like hyenas know where this is coming from. The music on You & I is what I imagine this "gift" would sound like. Although unapologetically derivative of early jazz and vocal pop from the 30s though the 50s, and a voice like more soulful Judy Garland, this album is incredibly stripped down with little production, often only utilizing one or two instruments. There is little to no compensation for this sparseness, either. It's what you might get if you had access to the original mixes of those earlier albums, and you cut everything out but the vocals, guitar and back up singers. You wouldn't hear those instruments trying to be everything, at once. The parts are simple and filled with space, allowing the most important part of the music to come through. Namely, the song.
Metz – Strange Peace [Sub Pop]
When I first heard Metz' first album in 2012, I was taken aback by the fact that this was a Sub Pop release. At that time, Sub Pop was the home of all things sweet and sachrine. Metz was seemingly a return to their roots, resembling the angst and intensity of earlier label mates, like Nirvana or Soundgarden. Since then, Sub Pop has stretched their arms into many different areas, proving themselves to be a reliable source for just good music. All preconceived ideas aside, Metz approach high energy, angsty hard core with a surprising sophistication. Their use of dissonance and rhythm textures are artfully crafted, contrasting nicely with the more primal aspects of their music. The instruments are loud, but leave an abundance of space. every little bit of genius shines through, making for a complex, collective "loundness" rather than just loudness.
Neil Young – Hitchhiker [Reprise]
There's nothing I could say about Neil Young that hasn't been said, and most likely said by more worthy and dedicated fans. I am a casual Neil Young fan. I would describe my occasional listen as exploratory. I've never really dived head first into his music. It's always been little bits hear and there, occasionally being in just the right mood for a full listen of Zuma or Harvest. But, there's something about Hitchhiker that hits right at home, for me. Perhaps it's the "thrown together" nature of the album, being recorded over one day, with only Neil and his guitar. This is what gave Nick Drake's Pink Moon  just the character that makes for one of my favorite albums. Many of the songs on Hitchhiker found their way onto later Young albums, taking on a little more shine than their original versions. I mean, as shiny as a Neil Young song can be. In summery, this is the Neil Young album for the hardcore fan and this very specific, casual Neil Young fan.