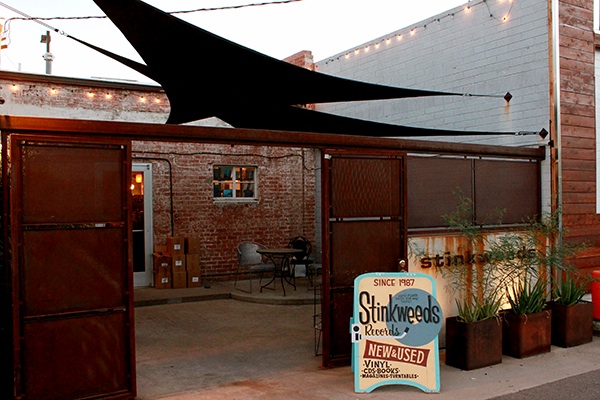 Looking for that perfect last minute gift?! Here are few things we currently have available at Stinkweeds Records.
Holiday Hours:
Monday through Thursday – 11am to 8pm
Friday/Saturday – 10am to 8pm
Sunday – 10am to 4pm
Browse our Stinkweeds TOP 5 of 2017! This is a list of some of our favorites from the year, with contributions from the entire Stinkweeds Team and a handful of some of our most loyal shoppers and friends.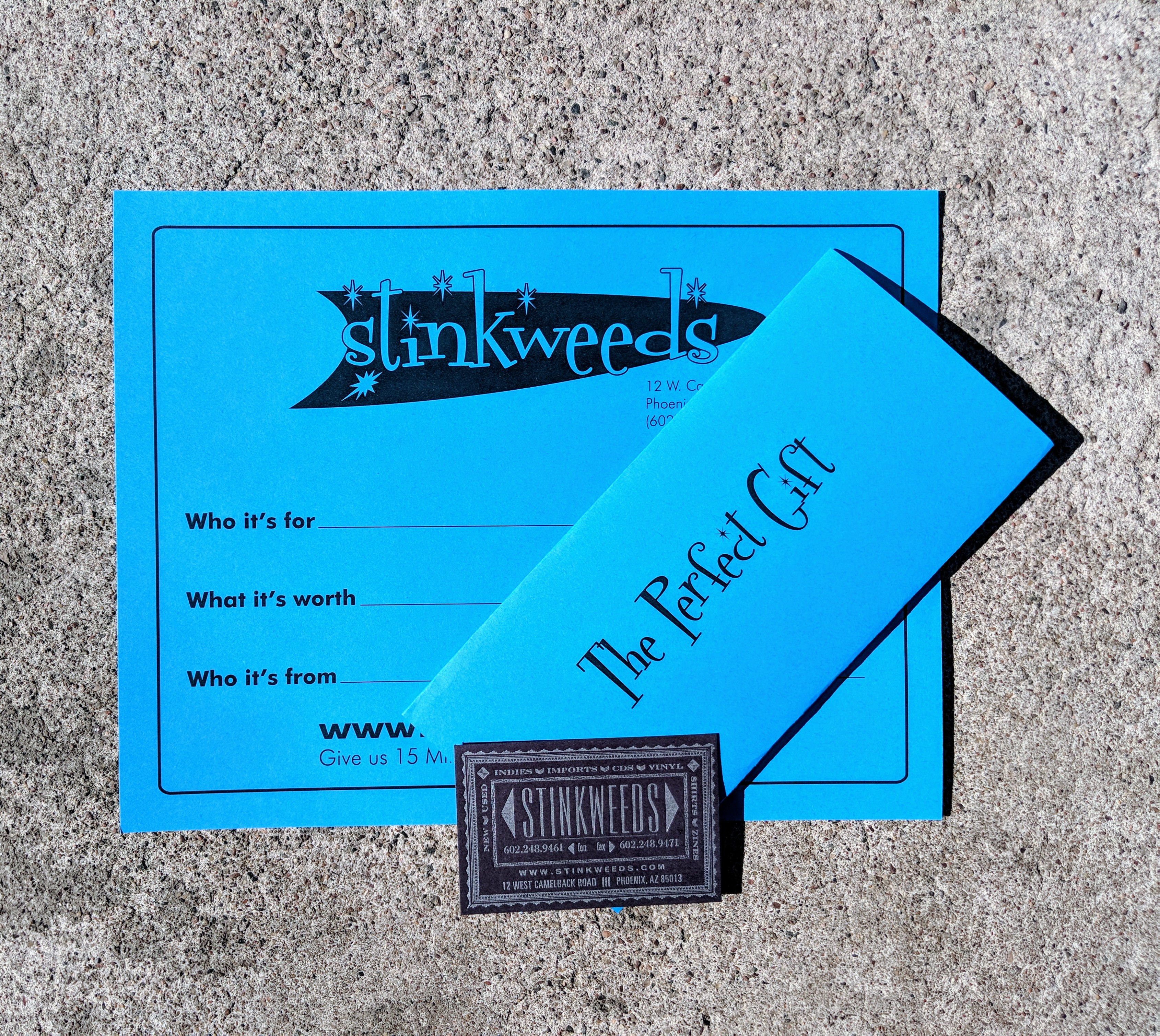 Of course, music is the best gift. But, we understand the challenges in picking out just the right thing. If you can think of at least 3 bands that your friend or family member is into, we can  most likely find a new favorite. But, maybe you don't have that information or they're just too darn stubborn to shop for. We've got you covered with a Stinkweeds Gift Card!
---
Box Sets!
What do you get the music lover who has everything?! Everything…in a box! We have an awesome selection of box sets, mostly rare and limited releases.

Day of the Dead – Grateful Dead Tribute Compilation
Neko Case Complete Album Set
Belle & Sebastian – Girls In Peacetime…4xLP Box Set
Eluvium – Life Through Bombardment 7xLP Box Set
Melvins – A Walk With Love & Death Box
Egyptian Lover – 1983 to 1988 4LP Box Set
The Smiths – The Queen is Dead 5xLP Box Set

Sisters of Mercy – Some Girls Wander by Mistake 4xLP Box Set
Blonde Redhead – Masculine/Feminie 4xLP Box Set
Captain Beefheart – Sun Zoom Spark 1970 to 1972 4xLP Box Set
Nick Drake – Pink Moon Box Set

Nick Drake – Bryter Layter Box Set
Flaming Lips – Heady Nuggs 1994 to 1997 5xLP Box Set
Flaming Lips – Heady Nuggs 1992 to 2002 5xLP Box Set
Flaming Lips – Heady Nuggs 2006 to 2012 8xLP Box Set



My Morning Jacket – Okonokos LIVE 4xLP Box Set

Mark Lanegan – One Way Street (The Sub Pop Albums) 5xLP Box Set
Ryan Adams – Live at Carnegie Hall 6xLP Box Set
Ryan Adams – Heartbreaker Deluxe Edition Box Set 

William Onyearbor – Vol 2 4xLP Box Set
Giant Sand – The Sun Set Vol. 1 8xLP Box Set
Flat Duo Jets – 3xLP Box Set
Goo Goo Dolls – First Five Studio Albums 5xLP Box Set

Neil Young – Official Release Series Vol.3 5xLP Box Set
Led Zeppelin – Mothership 4xLP Box Set
Led Zeppelin – Houses of the Holy CD/LP Box Set
Bob Dylan – Triplicate 3xLP Box Set
---
Record Players!
This can be a tricky sea to navigate, so don't be afraid to call or come in and ask us any questions about audio gear. We're always happy to help you find what you're looking for. We have a few vintage items left in stock. But, we are always well stocked up on newer record players, as well; some with bluetooth technology for easy set up.
Audio-Technica LP60
Also Available with Bluetooth:
-built-in pre-amp for easy hookup to any receiver or powered speaker.
Audio-Technica LP2 Hi-Fi Turntable:
This turntable gives you all the design and attention to detail that you would find in a high end turntable, for much less than the average price.
Also comes in white!
Audio-Technica LP 120:
-Design based on the classic Technics 1200
-Great for the working DJ or the serious listener. Also has a built in pre-amp.
Victrola Modern Bluetooth Stereo Turntable:
-Compact Size.
-50 Watt speakers, equipped with a bluetooth receiver, allowing you to switch to music from any digital device equipped with a bluetooth transmitter.
---
A few accessories that will help you get the most out of your vinyl records.
Clean vinyl makes for happy records and happy listeners. This kit has been the standard way to clean vinyl since the hay day of hi-fi!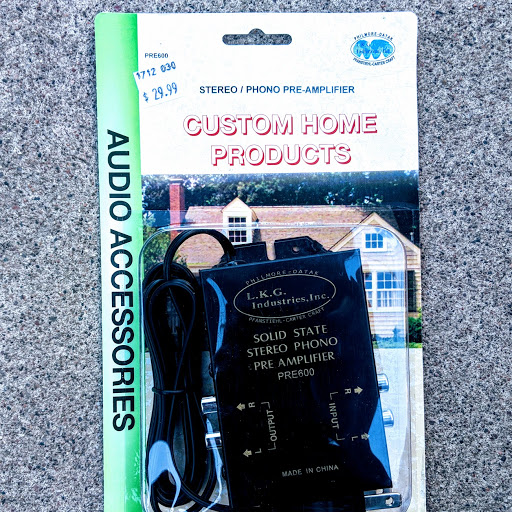 If you're picking up a vintage turntable but your receiver doesn't have a phono input, we've got you covered. This simple Phono preamp will give your analog player the juice it needs to play your records at the volume they were made to be played at.
Protect your vinyl with inner and outer sleeves, sold in all sizes.
And, what better way to dress up your turntable than with a custom Stinkweeds slip mat!
Don't Forget Holiday Music!
This is the only time of year you're going to see this stuff inside of Stinkweeds, so stock up now!
---
ACCESSORIES!
Stinkweeds T-Shirts!

We are fully stocked on all of our current Stinkweeds Ts, including our newest design (Top T-Shirt). We have all sized (Women's and Unisex) in all Stinkweeds T's and we also have a few kids sizes to choose from. These shirts go fast, so get em while they're hot!
Click here to order a shirt online. 
We've got tons of other cool t-shirts currently in stock too – designs for everything from Television to Ty Segall to Leonard Cohen and more!
Stinkweeds Tote Bag!
You need something to carry all of those records! Do it in style with this handsome Stinkweeds tote bag. Click here to order a tote bag online.
Stinkweeds LP Boxes!
Record collections have a tendency to grow out of control. Keep them organized and safe in one of our Stinkweeds wooden LP boxes. These hold about 30 records and are lightweight and easy to move around. Click here to order a Stinkweeds LP box.
Stinkweeds Mugs, Stickers and Pins!
Aren't these handsome?! Stinkweeds Branded Coffee Mugs, Stickers and Pins!
Books!
Of course, to fully appreciate something, one must try to fully understand it. This is why we keep a full stock of books by, for, and about musicians and music!
Feel free to give us a call with any questions or requests you might have.
602-248-9461
Happy Holidays from all of us at Stinkweeds Records!