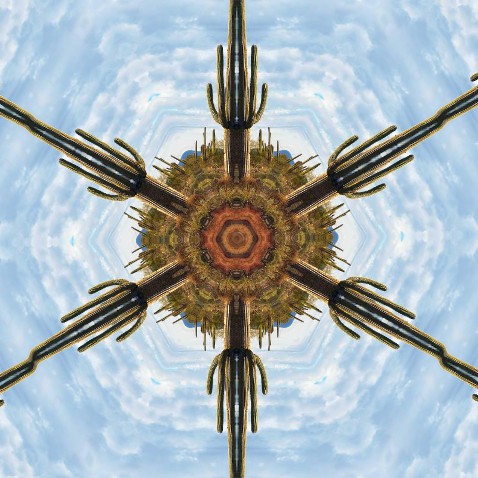 It's time for another hazy, lazy Phoenix summer. Whether you're a mythic bird who rises from the ashes to take on the heat, or like a reptile, burrowed deep under the cool sand, you're going to need some sounds to keep your mind focused while the sun beams its cosmic rays. So here are 5 favorites that go well with squinting eyes and dizzy spells.
Melody's Echo Chamber – Bon Voyage [Fat Possom]
It's been 6 long years since Melody's Echo Chamber knocked us out with their debut, self-titled album. Singer, Melody Prochet's voice is a throwback to the more fashionable French Psych pop of the 60s and 70s and her choices of collaborators couldn't be more perfect for that voice. Her debut album was co-produced by Kevin Parker of Tame Impala, adding that perfect delicate blend of psych and pop. Bon Voyage doesn't stray far from this first attempt, with a collaboration with members of the Swedish Psych Rock group, Dungen. This album is the perfect mix of throwback psych rock and newer, cleaner dream pop.
T. Hardy Morris – Dude, The Obscure [Normaltown]
T. Hardy Morris nods to the "Paisley Underground" sound of the 80s and 90s, with less of the openness found in predecessors like the Byrds or Velvet Underground. This is Psych Rock for the more introverted. The instrumentation makes no bold statements; There is no competition for space; There is a steady wash of sound that lays beautifully under Morris's strained vocals.  Where many new "Psych Rock" outfits lean a little heavier on the throwback sound, Morris seems more interested in bringing about a new "wave." He's pulling just as much from bands of the 90s and 2000s as he is from the classics.
Tangents – New Bodies [Temporary Residence]
Much like their 2016 debut album, New Bodies is more of an experimentation of sound than it is an album of songs. These are clearly schooled musicians with a wealth of talent and ability. But, instead of choosing to flaunt that ability, they put more energy into creating an atmosphere with multiple layers of texture and space. Pardon the dense analogy, but I can't help but think of the human shift towards agriculture and its effect on art and creativity. Our ability to cultivate food freed up the space for others to focus on art, science, math, literature and other pursuits of the mind. Hearing Tangents, I can't help but think that this is the result of living in a time where knowledge, talent and ability is so easily cultivated, that one can pursue something deeper and perhaps existing on another plane of understanding.
Michael Rault – It's a New Day Tonight [Wick]
It seems that a substantial group of musicians is on a mission to redefine "classic rock." Working at a record store, we get the request for all the old standbys, like the Beatles, Stones, Doors and the like. Turn on any classic rock radio station and you're sure to hear the Rolling Stones' top 100 classic rock bands played ad nauseam. But, in this information age, why does the radio and popular culture still reject the often overlooked greats, like T-Rex, 13th Floor Elevators,  Can and Captain Beefheart. It seems a lot of young musicians are up to the task of spreading the good news. Bands like King Gizzard and the Lizard Wizard, Ty Segall, King Tuff and Michael Rault are paying tribute to the favorite bands of your favorite bands. If those bands couldn't reach their contemporary audience, perhaps it's up to their kids and grandkids. I'm reminded of the scene from Back to the Future, where Marty McFly tears up a Chuck Berry song, only to be received with blank stares, to which he replies "Guess you guys aren't ready for that yet…But your kids are gonna love it."
Sam Evian – You, Forever [Saddle Creek]
This pulls from the breezier rock era of the mid 70s, where smooth was the name of the game. I've openly admitted my delight in hearing new bands pull from soft rockers like Hall & Oats, Fleetwood Mac, Bread or even Christopher Cross. I'll take all of that I can get. But, the best part of this is that so much of the new sounds incorporate all those weird elements I enjoy, like heavy reverb, fuzzy guitars and tripped out arrangements. So, along with artists like Mac Demarco or Andy Shauf, Sam Evian will be a great addition to that "cool/new" sound that appeals to the "old/lame" parts of me.