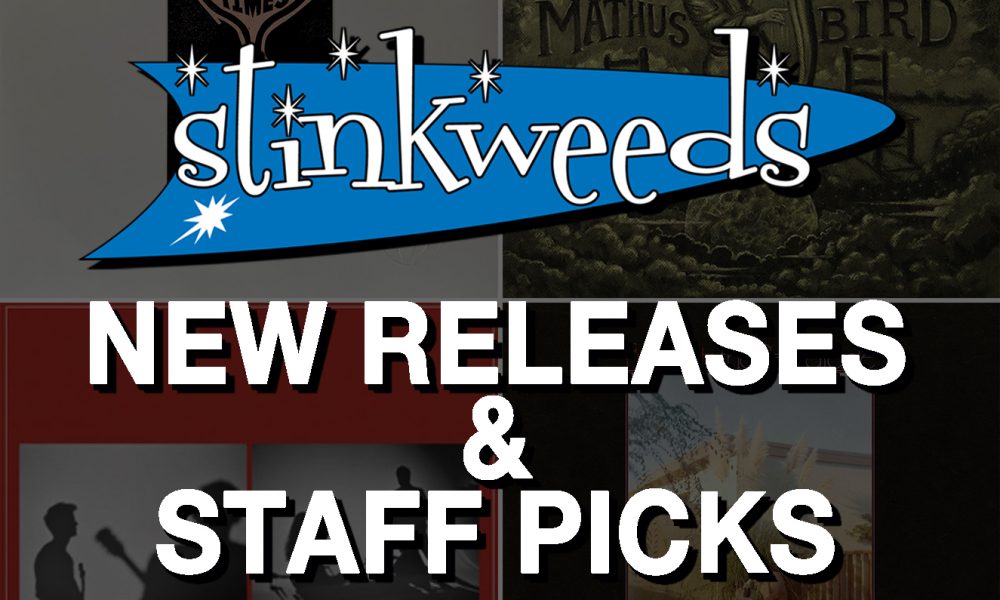 Staff Picks
Kimber – Fruit Bats
Lindsay – Reigning Sound, Fruit Bats
Dario – Gillian Welch & Dave Rawlings
Eric – Madlib
Gillian Welch & David Rawlings – All The Good Times CD (Acony)
The first Gillian Welch & David Rawlings collaboration to feature both of their names, All The Good Times, a collection of ten acoustic covers recorded at home, received a 2021 Grammy nomination for Best Folk Album. After a devastating tornado ravaged Nashville in the Spring of 2020 making their studio unusable, immediately followed by a global pandemic shutting down their community and touring livelihood, Welch & Rawlings were able to find the inspiration to set up recording equipment in their home living room and record ten performances on their reel-to-reel of some of their favorite songs from the likes of John Prine ("Hello In There"), Bob Dylan ("Abandoned Love"), Norman Blake ("Ginseng Sullivan"), and more. According to Uncut magazine, "The 10-song collection is the equivalent of being welcomed into Welch & Rawlings' living room and the pair treating you to a private recital. In other words, it doesn't get much better than this." [Vinyl edition TBA.]
Kings Of Leon – When You See Yourself CD/2xLP (RCA)

When You See Yourself sees Kings Of Leon entering 2021 with a modern bent on their sound as heard on the warm keyboard washed singles "The Bandit" and "100,000 People." Frontman Caleb Followill explained to The Sun: "I try to write and convince myself that I'm writing about something else but a vein of my personal life flows through these songs. Sound-wise, Matthew really nerded out and found some cool vintage equipment. He was into organs and synthesizers as I was pulling teeth trying to get him to play more guitar! But when you hear that old equipment, it feels timeless and beautiful. A lot of the instruments on this album, you could've heard on Pink Floyd or Beatles albums. We really dug deep to find the proper equipment." [A limited-edition indie store vinyl pressing is available.]
Fruit Bats – The Pet Parade CD/LP+MP3 (Merge)
"The Pet Parade", the title track to Fruit Bats' ninth album, might be a surprising opening track for longtime fans of Eric D. Johnson's beloved indie folk-rock project. The six-and-a-half-minute tone poem smolders and drones over just two chords, inspired by the strange and silly community events that he saw growing up outside of Chicago, in La Grange, Illinois, in which people dressed up and showed off their pets. Decades later, The Pet Parade emerges in troubled times, living within what Johnson refers to as the beauty and absurdity of existence.
Madlib – Sound Ancestors CD/LP (Madlib Invazion)
Gil Evans to Miles Davis…. Holger Czukay to the ensemble known as Can….Jean Claude Vannier to Serge Gainsbourg on Histoire de Melody Nelson. That's the only way to explain the specificity of FourTet and Madlib's collaboration, in this special album that showcases a two-decade long friendship that has resulted in an album that follows Madlib's classics like Quasimoto's The Unseen, Madvillainy and his Pinata and Bandana albums with Freddie Gibbs.
Jimbo Mathus & Andrew Bird – These 13 CD/LP (Wegawam Music Co. & Southern Broadcast)
These 13 is a little bit folk, a little bit gospel, a little bit bluesy, a little bit Hank, a little bit hill country, but most emphatically, it is all heart. Andrew Bird and Jimbo Mathus have climbed the height of their creative ladders in this collection of soul-strung songs, both lyrically and musically, a synchronicity between the two that feels joined in some special imaginative place that can only be visited by the best of songwriters. These 13 is about human connections that span any distance of time or geography. Bird and Jimbo had been disconnected for decades before returning to create this very personal, very vulnerable recording, and each opening himself up to the other for the purpose of powerful emotional songs. [A limited-edition indie store vinyl pressing is available.]
The Spill Canvas – Conduit CD/LP (Pure Noise)
Conduit is the The Spill Canvas's first studio album since 2012's Gestalt. "It's been nine years since our last full-length album was released," vocalist Nick Thomas says. "That said-we're beyond ready to present our sixth LP, Conduit, to the world. Created in the rural woods of Pennsylvania over the span of a couple years, we feel it's our most comprehensive work to date. We knew pretty early on in creating the new album that 'Firestorm' would be the perfect first single to reintroduce the band and begin our new chapter. Aside from overall vibe, the juxtaposition between the gospel singers and the lyrical context on desire make this tune among one of our favorites."
Chevelle – Niratias CD/LP (Epic)
Multi-platinum alternative rockers Chevelle return with their first new music in five years and ninth studio effort overall entitled Niratias. Produced by Joe Barresi (Tool, Queens Of The Stone Age), the follow-up to 2016's The North Corridor is introduced by the searing science denier focused lead single "Self Destructor" and features striking artwork by Boris Vallejo (Knightriders, National Lampoon's Vacation, '70s and '80s science fiction novel covers). Regarding the lyrical direction of the pummeling and provocative Niratias, Pete Loeffler told Blabbermouth: "It has a lot of space to it, a lot of interstellar travel to it. As you'll see with the cover, it's sort of space themed as well. I love the idea of the cosmos and I love Carl Sagan and Elon Musk and Neil deGrasse Tyson and all these people that look beyond and look to the future. Getting off this planet is part of that future if we can do it. It's fascinating. It just made its way into the music."
Tiger's Jaw – I Won't Care How You Remember Me CD/LP (Hopeless)
Described by the member's moms as Saves The Day meets Fleetwood Mac, Tigers Jaw has been carving out their own legacy in the indie, alternative, and emo-punk genres since 2006.
Junglepussy – Jp4 LP+MP3 (Jagjaguwar)
With a name as bold as Junglepussy and an artistry to match, Shayna McHayle is New York's premier rap rule-breaker. Honest, funny, and freaky, her rhymes span from the explicitly audacious to the tenderly relatable. Her unfailingly confident flow accentuates her roots in Brooklyn (her parents are from Trinidad and Jamaica), and her bars land with cool impact. In the universe that is Junglepussy, relationships are complicated, vegetables are magic, and an excellently delivered flex on an ex is one punchline away.
Reigning Sound – A Little More Time b/w Lonely Ghost 7"+MP3 (Merge)
Reigning Sound's single "A Little More Time" b/w "Lonely Ghost" marks the first new music from the group in nearly seven years. The A-side is another welcome pint of garage rock and Memphis soul from Reigning Sound chief brewmaster Greg Cartwright, and it serves double duty as the lead single from the band's forthcoming full-length A Little More Time With Reigning Sound [due May 21.]
Ron Gallo – Peacemeal LP (New West)
PEACEMEAL is yet another reinvention for Ron Gallo. Gallo exits the noisy confines of the garage and goes outside where there's no limit to embracing all aspects of himself. The result is a colorful hodgepodge of 90's hip-hop, r&b, weirdo pop, jazz, and punk. The sounds change, but the sense of humanity and humor is the common thread in all of Gallo's music. Mostly written and recorded during a period of self-isolation in summer 2019, it's an uncanny foreshadowing of the global situation that was to come and give all the songs a new meaning. This is feel-good music that attempts to confront and understand human existence. Ron Gallo just wants to be himself, destroy expectations and encourage you to do the same in a world that does just about everything to try and box us in – Now, eat before it gets cold!
Maximo Park – Nature Always Wins (Prolifica)
An album of our times, Newcastle band Maximo Park return with their seventh record Nature Always Wins. The album arrives as something of an examination, zeroing in on the notion of the self, identity as a band, and that of humanity as a whole. The album's title nods to the famous Nature vs Nurture debate. Discussing whether change is capable under the influence of time, perspective, environment or if we are destined to be bound by our own genetics, it asks, "who are we, and who do we want to be, and do we have any control over it?". Produced by Atlanta-based Grammy-winning producer Ben Allen (Animal Collective, Deerhunter), who afforded the band freedom to play and create. 
Tindersticks – Distractions CD/LP (City Slang)
Just before the end of the year 2020, a mere 12 months, after the release of their celebrated record "No Treasure But Hope", Tindersticks surprised everyone with mentioning  a new album to be released in 2021.Stuart Staples was already nurturing seeds for a different kind of Tindersticks album before lockdown halted their tour in early 2020, singer. If 2019's "No Treasure but Hope" saw the band rediscovering themselves as a unit, the follow-up reconfigures that unit so that everything familiar about Tindersticks sounds fresh again. "Distractions" is an album of subtle realignments and connections from a restless, intuitive band: rich in texture and atmosphere, it lives between its open spaces and details, always finding new ways to connect with a song.
Still Corners – The Last Exit LP (Wrecking Light)
THE LAST EXIT is the fifth studio album from Still Corners. Now available on LP! With the shimmering desert noir sound the band has become known for, THE LAST EXIT takes you on a hypnotic journey, one filled with dilapidated towns, mysterious shapes on the horizon, and long trips that blur the line between what's there and not there. Greg says, "We found something out there in the desert – something in the vast landscapes that went on forever." THE LAST EXIT consists of eleven beautifully crafted songs with organic instrumentation, clean-toned guitar, spacious drums and the smoky croon of Tessa Murray. Album highlights include "The Last Exit", "White Sands" and "Shifting Dunes" all of which evoke the vast space of the desert and rolling unconcerned skies.
COMING NEXT WEEK…!
LAKE STREET DIVE – Obviously CD/LP
VALERIE JUNE – Moon and Stars and Prescriptions For Dreamers CD/LP
ROOSEVELT – Polydans CD/LP
WINGED VICTORY FOR THE SULLEN – Invisible Cities CD/LP
ANOHNI – I Will Survive 7″
LINDA SMITH – Till Another Time: 1988-1996 LCD/LP
ROB ZOMBIE – Lunar Injection Koll + Eclipse Conspiracy LP
CANNIBAL OX – Blade Of The Ronin LP
NANCY SINATRA – Start Walkin CD/LP
CABARET VOLTAIRE – Shadow Of Funk LP
EYEHATEGOD – History Of Nomadic Behavior LP
NILS FRAHM – Tripping With Nils Frahm LP
THUMBSCREW – Never Is Enough CD/LP
GANG OF FOUR – 77-81 LP box