Looking for that perfect last minute gift?!
Here are few things we currently have available at Stinkweeds. Whether your loved one is just getting started with their vinyl collection or they've been at it for years, we can help them get the most out of their music listening experience.
Holiday Hours:
Monday through Saturday – 11am to 6pm
Sunday – 11am to 5pm
---
Stinkweeds Gift Card!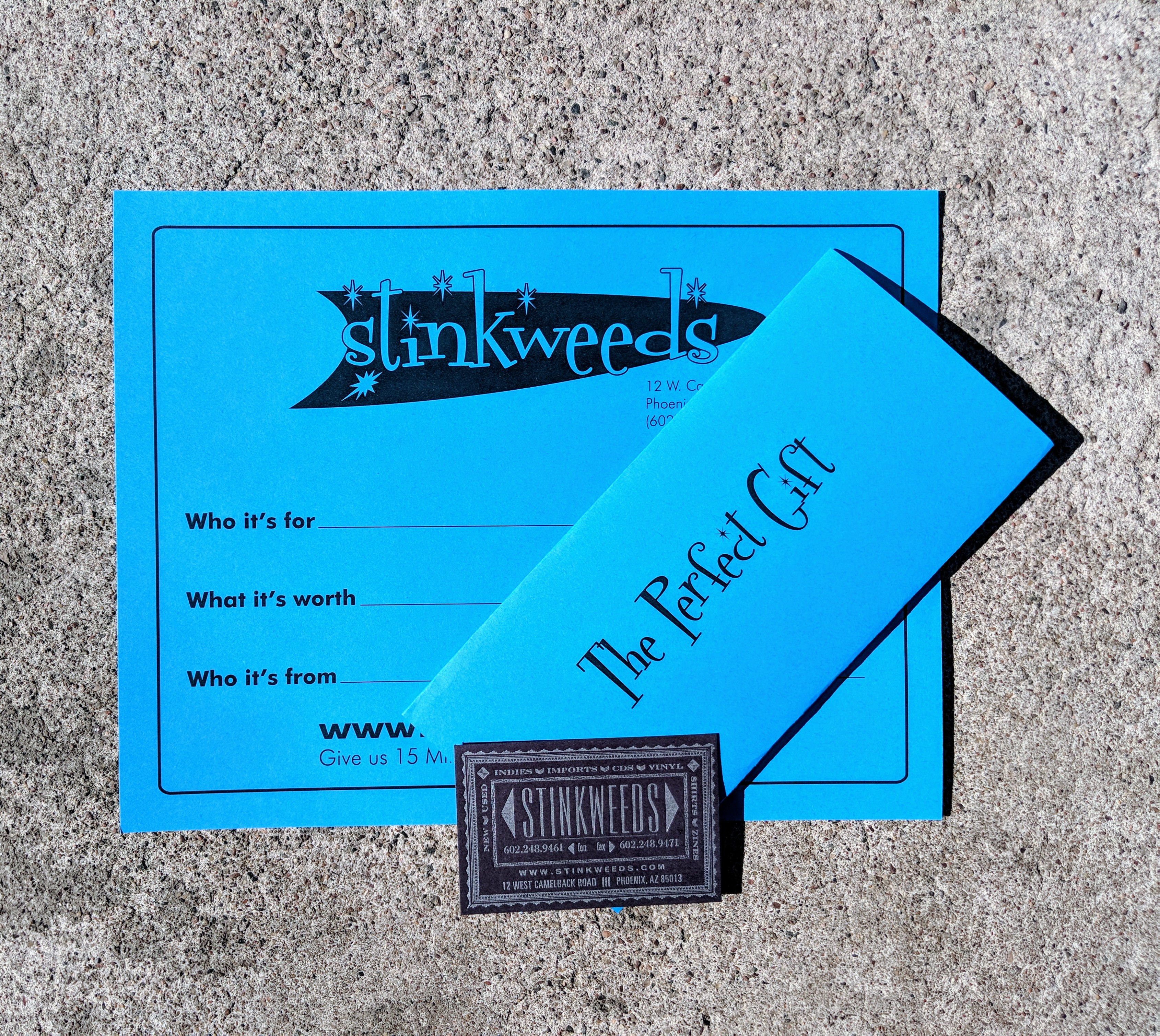 Of course, music is the best gift. But, we understand there are challenges in picking out just the right thing. If you can think of at least 3 bands that your friend or family member is into, we can most likely find a new favorite. Maybe you don't have that information or they're just too darn stubborn to shop for. We've got you covered with a Stinkweeds Gift Card!
Click Here to purchase a Stinkweeds Gift Card online!
---
Turntables!
This can be a tricky sea to navigate, so don't be afraid to call or come in and ask us any questions about audio gear. We're always happy to help you find what you're looking for. We have a few vintage items left in stock, as well as brand new record players, some with Bluetooth technology for easy set up.
Here's a couple we usually have in stock:
Audio Technica LP60 & LP60BT (Bluetooth)
Fully Automatic / Built-In Pre-Amp / 2 Speed Player
$99 (LP60)  /  $150 (LP60BT)
We've been selling the Audio-Technica line for over 7 years now and we have yet to find a more reliable turntable at this price point. Their entry level player, the LP60 is a great first time player, or perfect for anyone looking to upgrade from one of the many "suitcase" models on the market that don't always have the longest lifespan. The fully automatic start/stop/return options help you around all the scary learning curves that come with being a new time vinyl listener. It's also great for the long time vinyl buyers looking for a simple setup for an office or bedroom. The Bluetooth model adds that extra convenience of wireless playability to any Bluetooth speaker.

Pro-Ject T1 Hi-Fi Turntable
Hand made hi-fi belt drive turntable with Ortofon cartridge and stylus / Glass Platter /  Available in Black and White  \
$349
We are very excited to add the Pro-Ject T1 line to our inventory. Now that we're a few years into a major resurgence for vinyl, many listeners are looking to upgrade their systems to really get the most out of their vinyl listening experience. The Pro-Ject T1 is the perfect table for the job. Hand built with all the designs and technologies applied to turntable 3 times the price, this player will keep up with any speaker or amplifier upgrades you make down the road.
---
Speakers!
Edifier
R1280T $99.99
R1280DB (with Bluetooth) $129.99
These powered speakers are the perfect size for any desk, table top or bookshelf with a big, full sound for their size. Since they're powered, you can pair these with the Audio-Technica LP60, using its built in pre-amp. Or, get any simple external pre-amp (also available at Stinkweeds) and you can hook these up to any player. Much like the Audio-Technica line of products, we searched for an inexpensive option for people who care about the sound of their music. You can't beat the price and quality of these speakers.
We also have a variety of larger vintage floor speakers that would pair well with a classic receiver/turntable combo. Drop by the shop to take a look!
---
Vintage/Used Turntables!
The don't make 'em like they used to! These classic turntables have a lot of soul and a lot more stories to tell. Most of our used record players have been fully refurbished and restored. They've lasted this long, they're likely to last a lot longer.We also have a variety of vintage speakers available.
Stocking Stuffers!
Books!
Of course, to fully appreciate something, one must try to fully understand it. This is why we keep a full stock of books by, for, and about musicians and music as well as art and anything else that makes a person unique and interesting!
Protect Your Vinyl!
With inner and outer sleeves, sold in all sizes, you'll keep those records looking nice and new for generation to come. And, what better way to dress up your turntable than with a custom Stinkweeds slip mat!
Keep Those Records Clean!
We've got a variety of cleaning products to keep that desert dust off your records.
Don't Forget the Holiday Music!
This is the only time of year you're going to see this stuff inside of Stinkweeds, so stock up now!
---
STINKWEEDS ACCESSORIES!
Stinkweeds T-Shirts!
We are are soon to be fully stocked on all of our current Stinkweeds Ts. These shirts go fast, so get em while they're hot! Restock date by 12/17/2020
Stinkweeds Record Display Blocks!
Show that record cover off while you listen! These locally made wooden blocks are are great way to spruce up your listening area.
Click Here to purchase these on our webstore!
Stinkweeds Bandanas!
Also available is our new Stinkweeds Bandana!
Click here to order a shirt  or other Stinkweeds branded gear online. 
Crescent Ballroom and Rebel Lounge T-Shirts!
You can also purchase T-Shirts from a couple of our favorite music venues, as well as a handful of T-Shirts for various bands.
Click Here to Order Crescent Ballroom, Rebel Lounge or various band shirts online
Happy Holidays from all of us at Stinkweeds Records!
Tags
az
,
holiday shopping
,
music
,
phoenix
,
phx
,
record store
,
records
,
stinkweeds
,
stinkweeds records
,
vinyl
,
vinyl records