Thank You!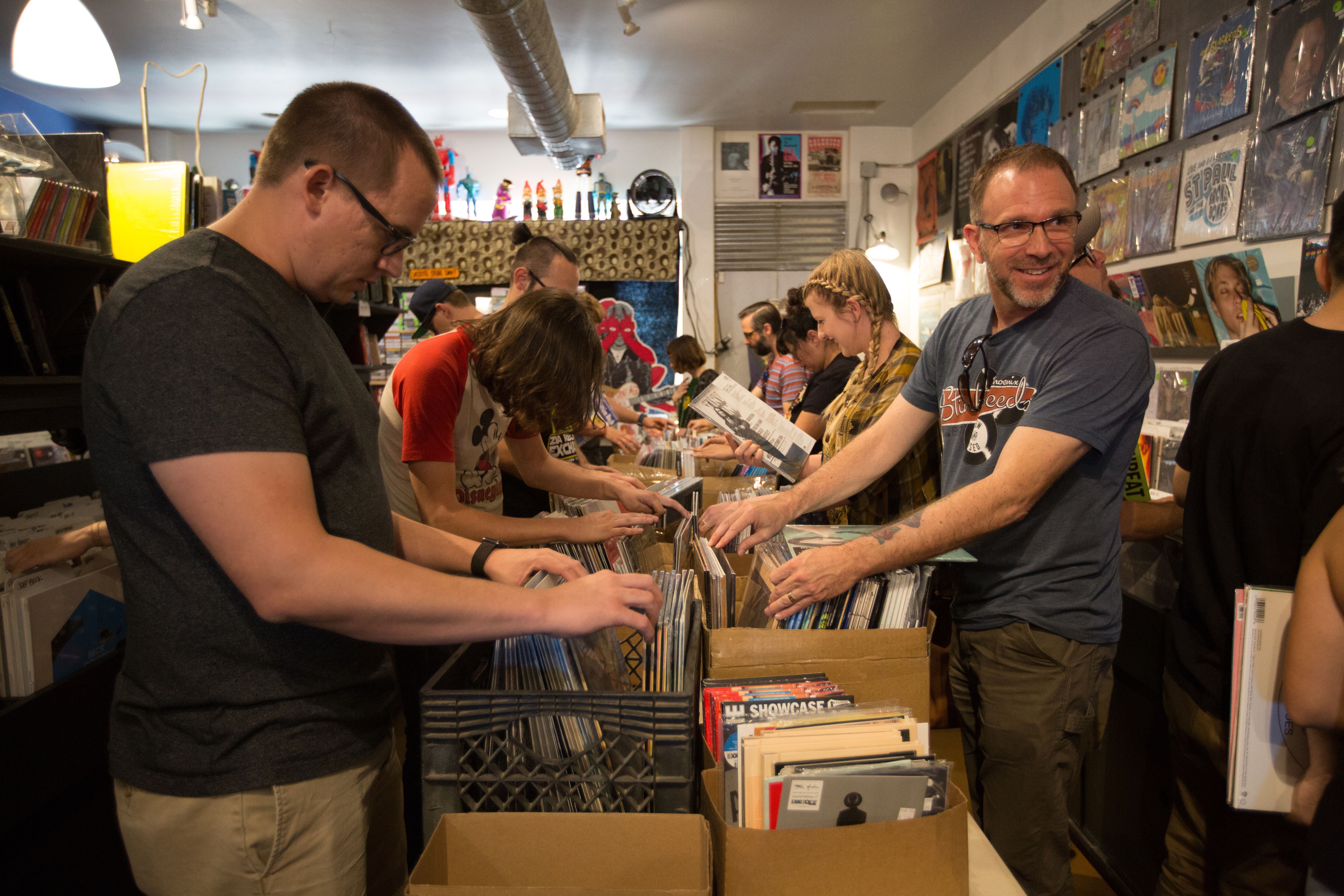 Record Store Day was started as a way to draw attention to all the great little record stores around the world. This was at a time when the popular notion was that record stores would soon be a thing of the past. We knew this was all hokum! Stinkweeds has always had a loyal following of music lovers who understood the value of record stores and listening to tangible copies of music that YOU own! But if someone wanted to start a day that celebrates our business, we were all for it!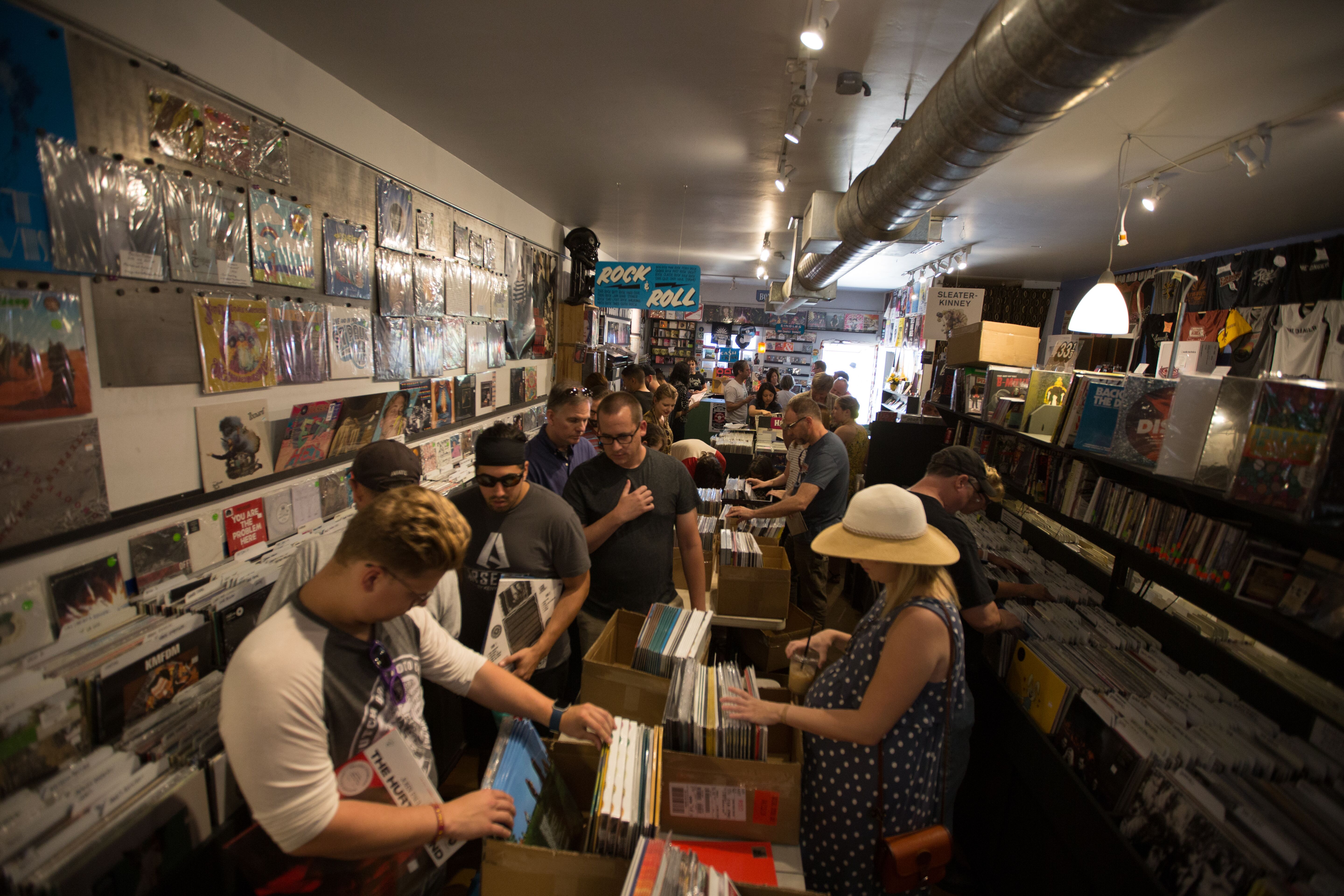 What we've found since that first Record Store Day, 12 years ago, is that our strong little collection of loyal customers has grown into an entire community of music lovers! By all accounts, RSD has successfully helped spread the word that record stores are here to stay. So for us, this party is all for you.
You are the reason that our city continues to open more record stores than it closes. You are the reason we are unaffected by an industry that would rather everyone just download their music, even though the artists would rather everyone buy their albums!
You are the reason kick ass bands continue to release kick ass music on kick ass albums, instead of just dropping a single every now and then. YOU keep this place going. For that, we say THANK YOU!
Now, here's a little bit of the fun that was had on Record Store Day, at Stinkweeds!
---
We started our day with a line wrapped around the building, some people having lined up as early as midnight! Later that day, we commented on how many familiar faces were in that line. The nature of RSD releases tends to bring out "flippers" who are basically trying to get their hands on some records that could potentially make for a quick turnaround on the online market. This of course goes against the spirit of Record Store Day, which is to support the people who like shopping at Record Stores! So, to see a line full of familiar faces tells us that our customers are more motivated to get their hands on the music they love than some jerk who just wants to make a quick buck. This warms our hearts. 🙂
---
Early shoppers were treated to goodie bags, DJ Bruce spinning that record store sound AND some LIVE ART by Mr. Matt (imakeletters), who was finishing up our new courtyard mural! Matt has been the creative mind behind many of our t-shirts, our sandwich board sign, all the "genre" signs in the shop, AND he's lent his talents to the Daptone Record Label, designing tour posters, T-Shirts and even the lettering for the Frightnrs album cover! We're super lucky to have him on board as our "in-house" designer.
---
Our party kicked off with a DJ set by THE MEAT PUPPETS!
This Phoenix group has been making us proud since the 1980s! Having them at the shop was a real treat and a testament to the rich music history of our little town. They have always been big supporters of Stinkweeds and we were thrilled to have them there, hanging out with their fans.
Shortly after wrapping up their DJ set, we had an all acoustic performance from Mr. Beat Happening/K Records himself, Calvin Johnson!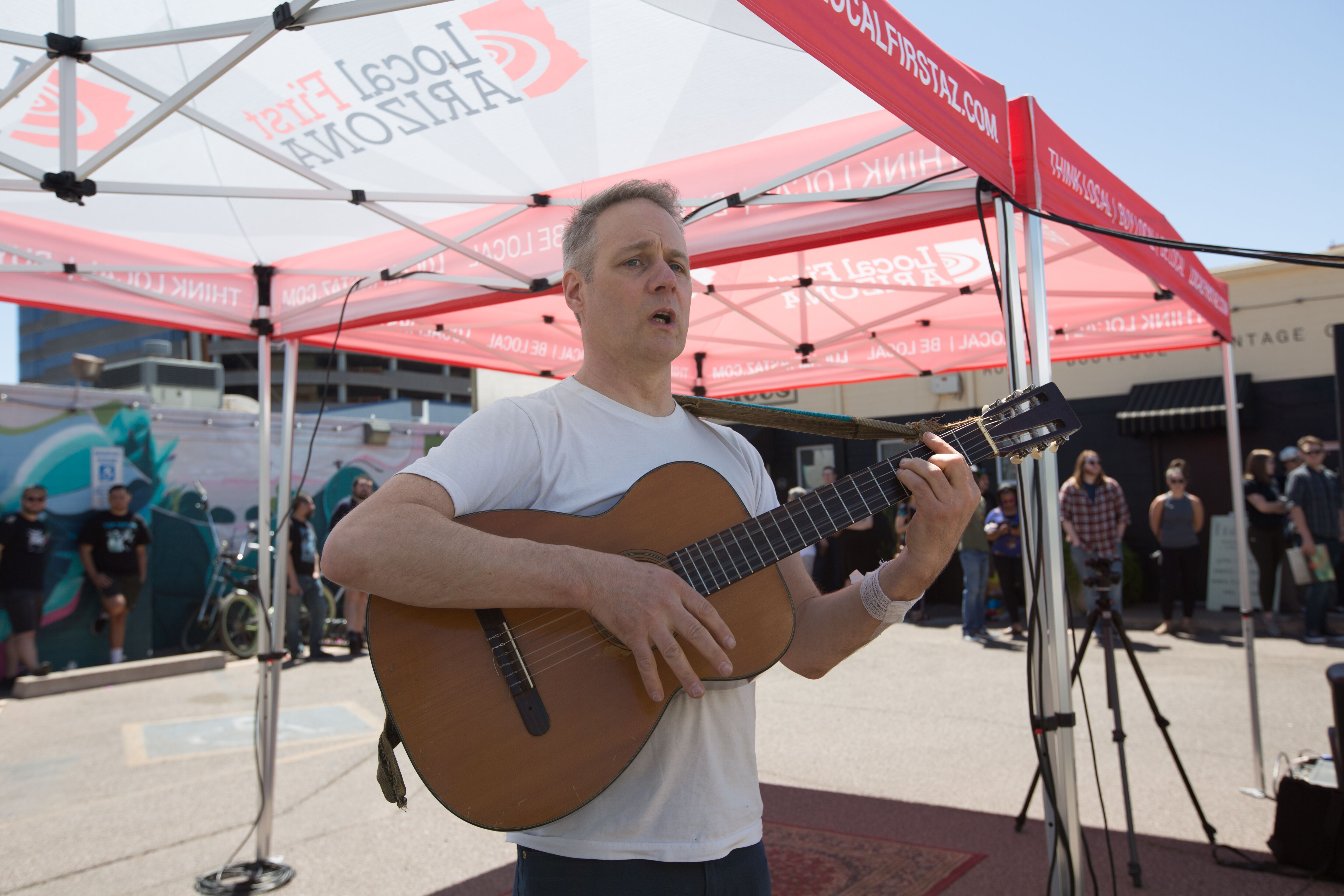 Calvin's label has released some of our absolute, all-time favorite records (some of which include his musical talents) and we were super lucky to have him be a part of our festivities. His set brought a real sense of intimacy and a relaxed neighborhood party vibe to what was otherwise a bit of a chaotic day.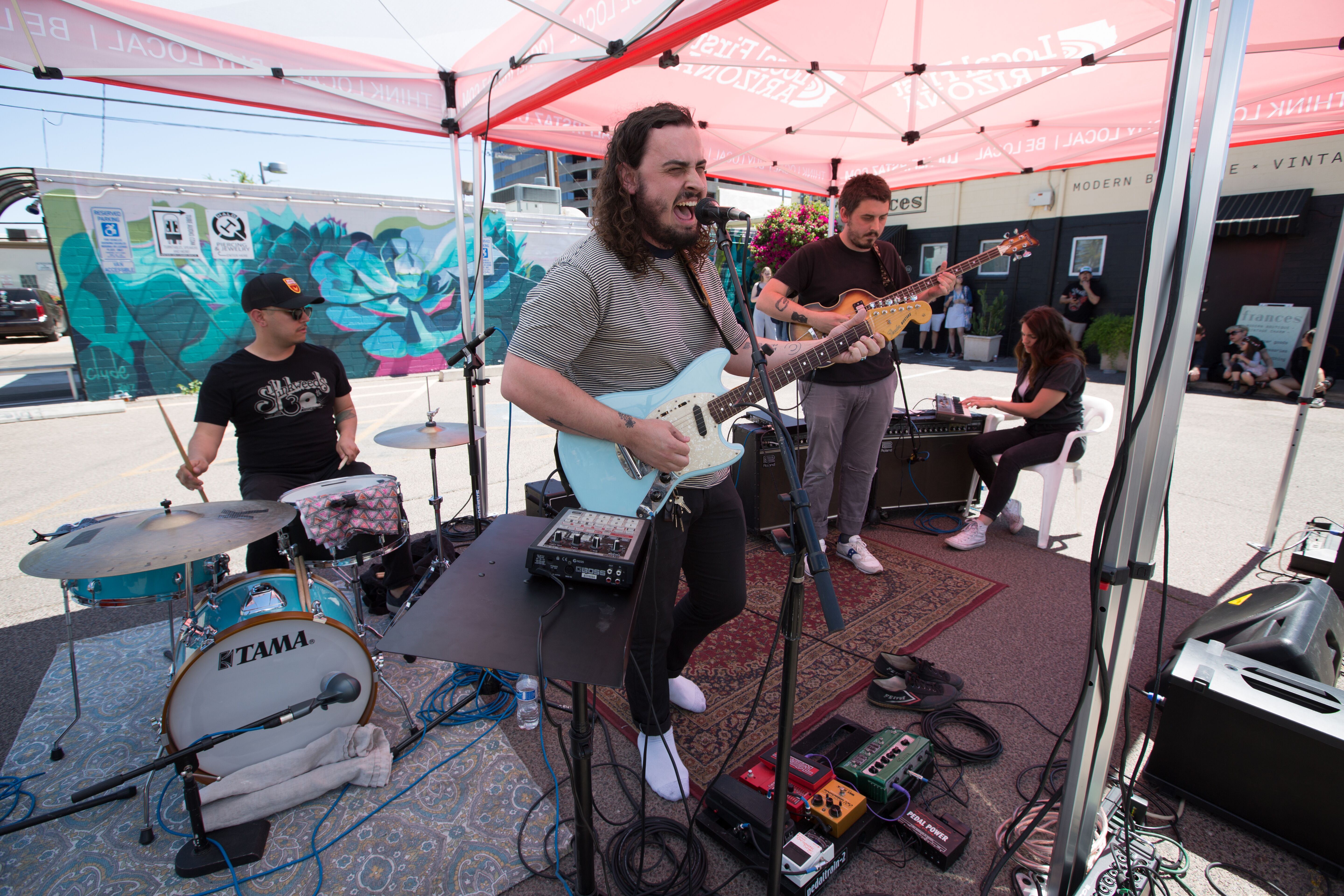 We were then treated to an amazing set from our favorite local people who play in one of our favorite local bands, Flower Festival! These rockers pull from some of the best music from the past 40+ years. This is the kind of band that could only be born out of a collection of music lovers that dig deep into their local record stores. Not a day goes by where we don't see one of them shopping the isles of Stinkweeds and we run into them at just about every concert we go to. They are what happens when music lovers write music.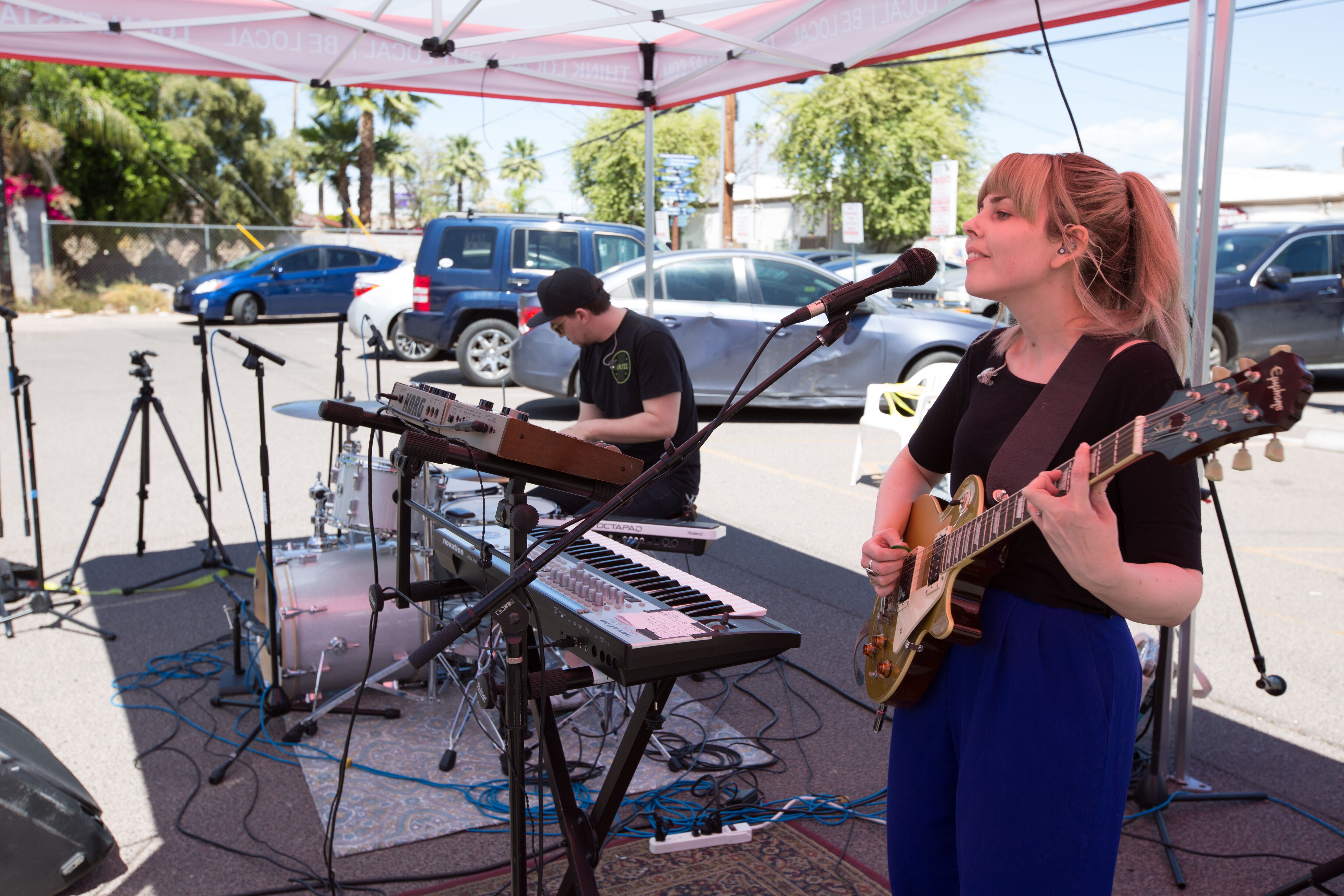 Closing out the day was a magical set by local synth-pop outfit MRCH! With only two musicians, this band created some of the most beautifully lush and brilliantly full music we've heard in a live performance. We've got a feeling that they will be a household name before too long. Oh, and they closed out their set with a spot on performance of Blondie's Heart of Glass. How perfect of a ending for a Record Store Day party is that?!
---
Thanks again to everyone who has supported us over the years and everyone who came out for the party. This year was the biggest turnout we've ever had everything went off without a hitch! We can't express our gratitude enough for how awesome you all are.
From all of us at Stinkweeds,
THANK YOU!