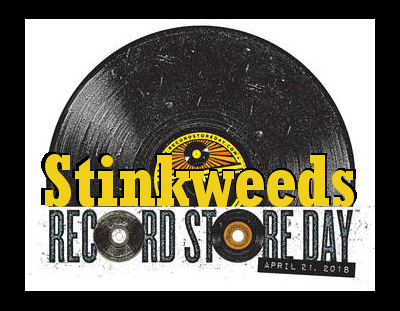 Saturday, April 21st will be the 10th annual Record Store Day, and as with every year, Stinkweeds will be going all out for the party! As always, you can expect that we'll order tons of the exclusive releases and have them ready, organized and available early that morning, making Stinkweeds one of the best spots to start our Record Store Day shopping spree.
Here's a timeline of everything going on that day! We really hope you'll spend your Record Store Day with Stinkweeds. If you've been to one of our parties in the past, you know that we make it worth your while. Not only with good food and music, but with countless prizes and giveaways.
Timeline:
8AM
Open for Business!
We're opening a little earlier this year so you can get that head start on those exclusive releases. We'll have our famous "goodie bags" to give away to the first 100 customers. These are filled with Vinyl, CDs, Stickers, Posters, Pins, T-Shirts, Concert Tickets and whatever else we can fit in there. We'll also be doing giveaways in the shop, throughout the day, with a big push while the bands are playing, around noon. You can expect to win Stinkweeds Gift Cards, LPs, CDs, Stinkweeds Merch and a whole bunch of concert tickets for your favorite venues.
DJ Bruce will be kicking out jams in the early morning, to keep our record shopping energy at high levels.
11AM
Lunch Time!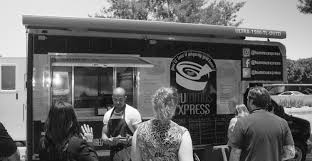 Hummus Xpress will open up shop in our parking lot and you can enjoy your lunch with some awesome live music!
We'll have plenty of shaded seating, free cold drinks and some cool air blowing to beat the heat.
Music!
12:30 PM
What's the Big Idea?
We can't celebrate vinyl records without seriously considering one of the oldest American art forms. What's the Big Idea? brilliantly pays hommage to the great Jazz players and innovators, with a mix of standards, some contemporary "pop" arrangements and a slew of originals that fit right in with the old greats and new tastes.
12:00AM
Citrus Cloud
Ease into the middle of the day with one of Phoenix's best Shoegaze bands. Like true record store shoppers, this band pulls from greats like My Bloody Valentine, Echo & the Bunnymen, Joy Division and a slew of newer artists carrying the torch of dreamy rock n roll
1:30 PM
The Blood Feud Family Singers
Described as Americana Noir, this band plays the songs for all the sinners. Pulling from influences like Leonard Cohen, Nick Cave & Tom Waits, this band digs deep into the darker side or our humanity and dredges up all those dark skeletons you've kept locked away…but like in a really fun way!
When In AZ Vol. 2
The Music portion of this event will be hosted by Nick from When In Az, which is a compilation of All Arizona Bands, covering All Arizona Bands! Over 100 artists contributed to this project. As an added Stinkweeds Record Store Day Exclusive, we will be selling a "Best Of When In AZ Vol. 2" CD compilation. All of the profits from this compilation will be for the benefit of Ryan House, a non-profit, end of life sanctuary for children with terminal illness. So, make sure to put that in your budget and pick a few for your music loving friends, as well.