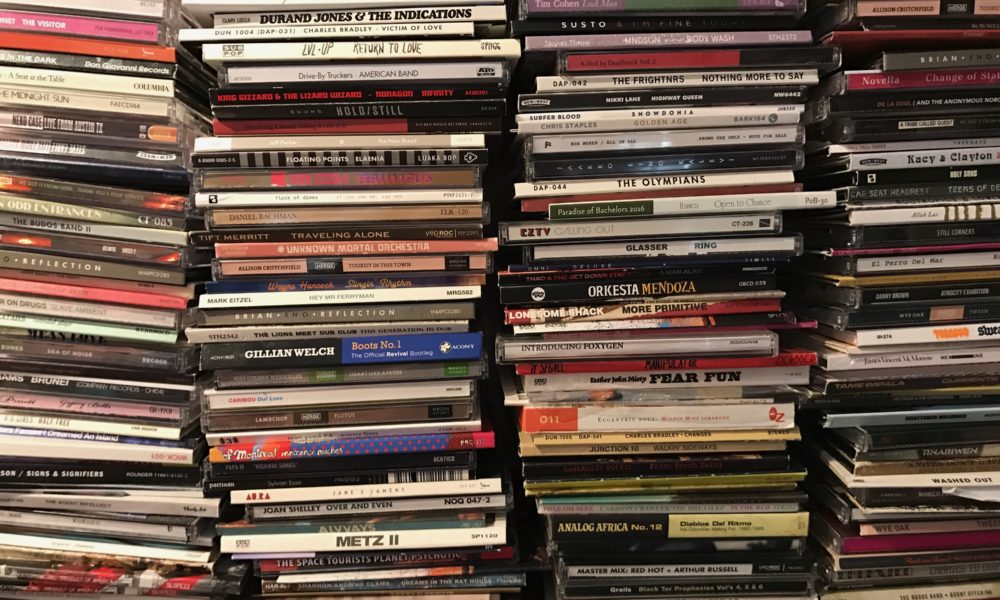 We're all very excited for Record Store Day on April 21st. But, let's not forget all the other treasures April has to offer! Like every other month, we are combing through some fantastic new releases. And, like every other month, we've picked out our 5 favorites to highlight some of the stuff that has been getting regular play in the shop. We're sure we'll see you lined up on Record Store Day for all the exclusive releases. But, if you need something to hold you over till then, maybe give these a listen.
Orquesta Akokan – ST [Daptone Records]
Daptone Records has done it again! This time, taking advantage of our open borders with our friends in Cuba, Orquesta Akokan brings us all the color and excitement of old Havana. Consisting of all Cuban musicians and recorded in Havana, this album is the real deal. In true Daptone fashion, it was recorded all to tape in one of the longest running studios in Cuba. So, on top of an album full of killer tracks played by top notch musicians, you get that classic sound that adds that little extra style to get you up and moving.
Cut Worms – Hollow Ground [Jagjaguwar]
This one comes out in May, but it's just an all around Springtime album. Max Clarke pulls from the catchiest pop rock sounds of the 60s and adds all that extra flair that comes with studying a style of music that has been around for nearly 60 years. Like his contemporaries, Foxygen or Shannon and the Clams, Clarke is more interested in the sound of the late 50s, early 60s, where the new ideas were just starting to blossom and not yet moved into the bombastic world of psych-rock. This was music that could be passed off as innocent, but something about it hinted that the kids were still sneaking behind the gym to smoke reefer.
Jjuujjuu – Zionic Mud [Dine Alone Records]
There's something about heavy reverb and hypnotic hooks that just goes perfectly with sunshine and 100 degree weather. It's fitting that Jjuujjuu is the sonic brainchild of Phil Pirrone, better known (or unknown) as the founder of the Desert Daze music fest. This project fits right in with all those psyched out heavy hitters like Ty Segall, Thee Oh Sees, Tame Impala, but maybe relies less on the stylistic qualities of such bands. There is no charismatic front man; no Sabbath-esque riffs, no call-backs to past eras. This is all trips with out all the tropes.
A Place To Bury Strangers – Pinned [Dead Oceans]
As this bands name might suggest, this one is not all sunshine and happy dancing. A Place to Bury Strangers is a long time favorite of ours, occupying the uneasier parts of our taste. They are one of a few bands who have mastered a sort of hectic, yet mildly hushed, dissonance. In my less eloquent moments I've described this band as "Heavy. But, not like heavy heavy. Like, (UGH) HEAVY." These are the predecessors of Joy Division, Wire, Sonic Youth but pulled through all the eras of industrial, noise and electronic.
Laura Veirs – The Lookout [Raven Marching Band Records]
Laura Veirs has been consistently recording exceptionally beautiful music since 1999. Though not quite a household name, this consistency has awarded her a large and loyal following that welcomes albums like The Lookout, which may reach outside of her well established folk "singer-songwriter" realm and into more baroque pop and dream wave. At the center of all she does is her welcoming voice and well enunciated lyrics that offer some delightful head scratchers. After nearly 20 years, her songs are still fresh as ever and wholly her own.
Tags
a place to bury strangers
,
arizona
,
az
,
cut worms
,
daptone
,
dario miranda
,
dead oceans
,
dine alone records
,
jagjaguwar
,
jjuujjuu
,
kimber lanning
,
laura veirs
,
lindsay cates
,
music
,
orquesta akokan
,
raven marching band records
,
record store day
,
records
,
stinkweeds
,
stinkweeds records
,
vinyl
,
vinyl records