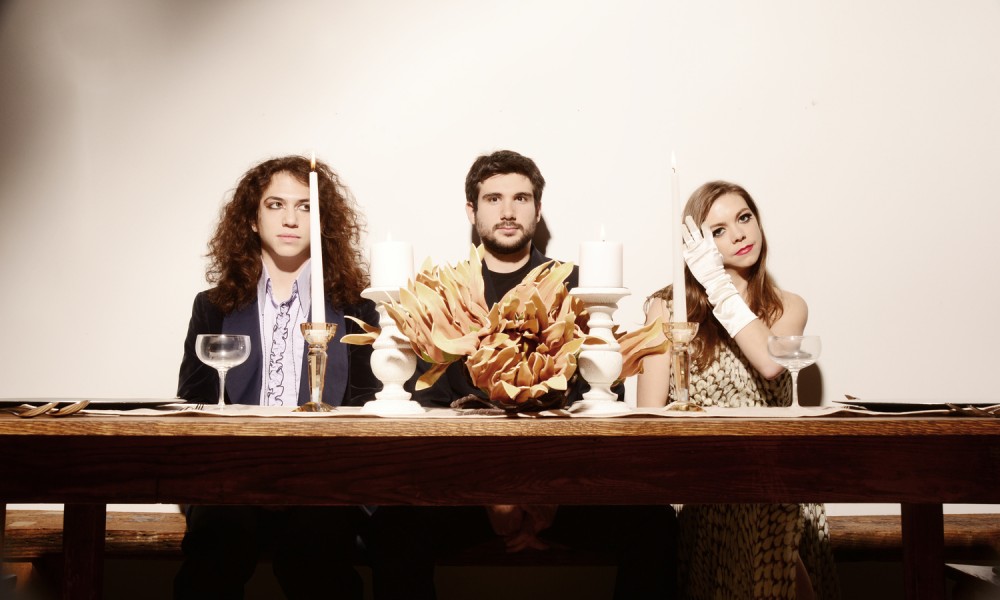 We've teamed up with Changing Hands for another unique concert experience at the Newton. Phoenix is now, more than ever, a destination for touring bands looking for attentive audiences and intimate spaces. Even with all of the new venues opening up, we are still coming up short on venues for all of the new acts coming through town. Ever since Changing Hands opened their doors only a block away from Stinkweeds, we've been excited to collaborate with them on providing another spot for live music. Join us this Friday, September 25th for our second in a series of music performances brought to you by Stinkweeds, Changing Hands, First Draft Book Bar, Southern Rail and the Newton.
Arc Iris is the project of composer, singer, multi-instrumentalist and former member of The Low Anthem, Jocie Adams. Embracing her new role as auteur, Adams has created a genre-bending style that often shifts between cabaret-infused jazz, orchestral sophistication, grimy outlaw country, delicate and whimsical harmonies, and big-band exhilaration – sometimes all in the same song. The evening includes a variety of complimentary acts, such as Qais Essar & the Qosmonauts, playing their own brand of global psych folk played on the classical Afghan instrument the Rabab, as well as other traditional instruments. Local support includes the haunting Americana of Tuscon's Human Behavior and Phoenix's own The Blood Feud Family Singers. All of this in the unique setting of the Newton, located inside Changing Hands Bookstore.
Tickets can be purchased at Stinkweeds Records and Changing Hands Bookstore. The show is $10 and open to all ages. Doors at 7pm. Music starts at 8pm.
Tags
album
,
albums
,
Arc Iris
,
arizona
,
arizona hi-fi
,
az
,
az hifi
,
bar smith
,
best record stores in phoenix
,
Blood Feud Family Singers
,
brick and mortar
,
buy records online
,
camelback
,
camelback road
,
cassette
,
cassette tape
,
cassettes
,
cd
,
cd stores phoenix
,
cds
,
central
,
central and camelback
,
central phoenix
,
changing hands
,
club red
,
club red theaters
,
concert giveaways
,
crescent ballroom
,
dario miranda
,
dvd
,
dvds
,
film bar
,
frances
,
glendale record store
,
golden rule tattoo
,
halo
,
halo piercing and jewelry
,
Human Behavior
,
in-store performance
,
in-stores
,
kimber lanning
,
last exit
,
last exit live
,
lindsay cates
,
listening stations
,
live music
,
local business
,
local establishment
,
local first arizona
,
local first az
,
local music
,
Low Anthem
,
lp
,
lps
,
magazines
,
mesa
,
modified arts
,
music
,
music store
,
music stores
,
music stores phoenix
,
new releases
,
order records
,
order records online
,
pheonix
,
phoenix
,
phoenix record stores
,
phoenix vinil shop
,
phoenix vinyl shop
,
phx
,
pre-amp
,
pre-amps
,
pre-order
,
psyko steve
,
psyko steve presents
,
pub rock
,
pub rock live
,
Qais Essar
,
record shop
,
record shops
,
record store
,
record store day
,
record stores
,
record stores in phoenix
,
records
,
rhythm room
,
rsd
,
scottsdale record store
,
silverplatter
,
speakers
,
stateside presents
,
stereo
,
stereo set-up
,
stink weeds
,
stinkweed
,
stinkweed records
,
stinkweeds
,
stinkweeds arizona
,
stinkweeds az
,
stinkweeds facebook
,
stinkweeds hours
,
stinkweeds instagram
,
stinkweeds music
,
stinkweeds phoenix
,
stinkweeds phx
,
stinkweeds records
,
stinkweeds records phoenix
,
stinkweeds website
,
stinkweeds.com
,
stinkweedsrecords
,
tape
,
tapes
,
tempe
,
tempe record store
,
The Newton
,
the pressroom
,
the rebel lounge
,
ticket contests
,
ticket giveaways
,
turntable
,
turntables
,
used music store
,
used music store phoenix
,
valley bar
,
vintage record store
,
vintage records
,
vinyl
,
vinyl records
,
vinyls
,
wax times
,
World Music